Real Scientific Hemp Oil (RSHO) Review
In 2012, Real Scientific Hemp Oil, better known as RSHO, became the first-ever mainstream CBD oil which was legal in all 50 states and more than 40 countries. Since opening its doors, the brand has developed a reputation for supplying top-quality, pure CBD oil products that innovate.
Who Makes RHSO?
RHSO is manufactured and distributed by Medical Marijuana Inc. and its subsidiary HempMeds. In fact, RHSO was first distributed as the flagship brand for HempMeds. The goal was to bring the benefits of cannabinoids to the everyday person.
Founded with the goal of "access for all" in mind, the company turned to the hemp plant, which is in the cannabis family. Marijuana is under tight DEA control, and medical marijuana is still hard to come by for many Americans. Hemp was the solution the company was looking for and if you follow the news recently see that the 2018 Farm Bill is bringing the benefits of hemp to the masses.
The CBD oil extracted from hemp is legal to sell and ships throughout the United States – as long as the plant is cultivated in another country and imported into the U.S.
The goal of HempMeds is to bring unadulterated hemp oil to the masses. They work with cultivators in Northern Europe through a 750 family farm collective.
Since opening its doors in 2012, HempMeds has served more than 100,000 customers. The company was the first provider of CBD products in Brazil and is the only provider of CBD products in Mexico.
[heading subtitle=""]Shop Real Scientific Hemp Oil Now >>[/heading]
RHSO Sourcing & Quality
[full_width_section bg_pos="Center Center" bg_repeat="No-Repeat" text_color="Light" image_url="https://www.cbdalliance.org/wp-content/uploads/2018/11/rsho-sourcing.jpg" top_padding="120″ bottom_padding="120″ background_color=""][/full_width_section]
Quality is of the utmost importance when it comes to CBD oil. Because CBD oils are categorized as "supplements," they are not regulated by the FDA. That means consumers must do their due diligence before buying any hemp product. Unfortunately, many CBD products on the market today don't contain any CBD and may even have harmful substances in them.
The hemp used in RHSO is sourced from a 750-family farm collective in Northern Europe. These individually-owned family farms use the knowledge and techniques passed down from numerous generations before them. All hemp used to create RHSO products is non-GMO.
And the company also ensures that they have their products independently-tested for quality and purity.
The company puts a great deal of care into cultivating their hemp, but they put just as much care into testing and extraction.
Throughout the growth cycle, the company's team of cultivars tests their hemp hundreds of times to ensure that its nutrition profiles are robust. Once the hemp is harvested, it's extracted by industry professionals in a high-end facility using a solvent-free CO2 process.
This method uses carbon dioxide at various pressures and temperatures to extract oil from the raw plant material.
The extraction method used also pulls the plant's carbohydrates, healthy fatty acids, vitamins, minerals, flavonoids and terpenes. When you buy RHSO, you're getting so much more than just CBD – you're getting other cannabinoids, omega 3 & 6 fatty acids, vitamin A, vitamin C, vitamin B, vitamin E, iron, magnesium, calcium and other nutrients that are often lacking or missing from the average diet.
The testing doesn't stop here. Once extraction is complete, the hemp oil is tested by several ISO-certified facilities in the United States to ensure it meets the company's high quality and safety standards.
These labs test for:
Cannabinoid content
Pesticides
Mold
Heavy metals
Other contaminants
The company has partnered with Pro Verde Laboratories to test its products.
The company is committed to ensuring that its products are safe for everyone to use.
What's the Difference Between RSHO™ Green, Blue, and Gold?
RHSO offers four varieties of CBD oil products: Green, Blue, Gold, and Special Blend. We'll talk about the special blend in just a minute but lets start with the basics.
The Green, Blue and Gold labels indicate the concentration of CBD.
[one_third]
Green Label
The Green Label products are the rawest form of CBD. The oil is extracted from the plant using the solvent-free CO2 extraction method. The oil is never heated, so it maintains most of the plant's beneficial components, like cannabidiolic acid, chlorophyll, and CBDa.
Green Label products have a concentration level of 10% CBD.
[/one_third]
[one_third]
Blue Label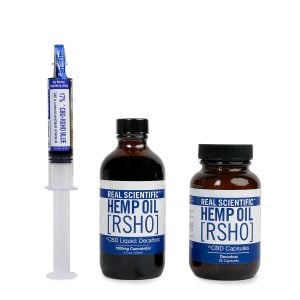 The Blue Label products have a higher concentration level and are a bit more processed than the Green Label products.
The company starts with the extracted Green Label hemp oil and then heats it to convert the CBDa into CBD. This increases the concentration of CBD in the product.
Blue Label products have a concentration level of 17% CBD.
[/one_third]
[one_third_last]
Gold Label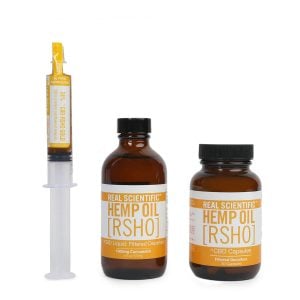 The Gold Label products take things a step further. These products start with the Blue Label oil, and that oil is put through the company's signature filtration process. This removes most of the plant material, which in turn, improves the taste and consistency of the oil.
Gold Label products have a concentration level of 24%.
[/one_third_last]
No matter which Label you choose, the oil will be thick with an earthy scent.
[divider line_type="Full Width Line" custom_height="55″]
What is the Strongest Cannabidiol Extract Available?

RHSO's Gold Label products offer a high CBD concentration, but their Special Blend offers an even higher concentration: 38%.
The company's Special Blend CBD, which is full-spectrum and contains 3,800mg of CBD, is a combination of Blue and Gold Label hemp oil. Along with CBD, it also contains naturally-occurring chlorophyll, terpenes, and fatty acids to improve absorption.
Does RSHO Offer THC-Free CBD?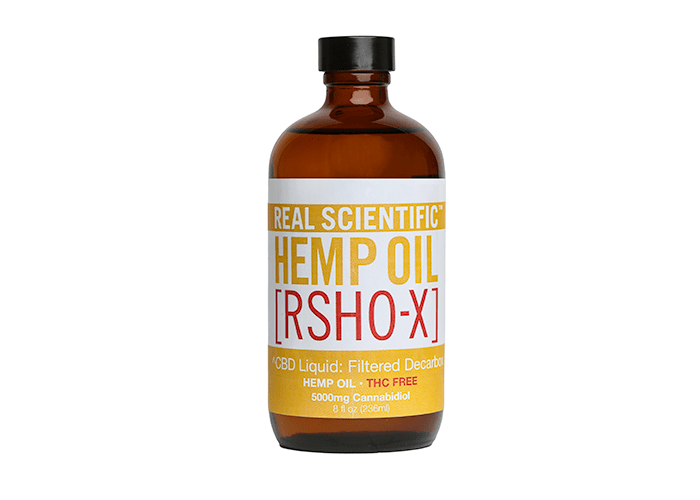 If you're looking for 100% THC free CBD oil, try the company's RSHO-X product. It's the first of its kind, and it contains zero THC.
THC is the compound responsible for getting you "high." Because RSHO-X does not contain any THC, it is the product of choice for athletes, parents of young children and first responders.
Each bottle of RSHO-X contains either 1000mg or 5000mg of CBD and absolutely no THC.
RSHO offers two sizes: 4 oz., 1,000mg; and 8 oz., 5,000mg.
Along with RSHO-X, the company also sells a unique product called RSHO-K. This is actually Humulus oil, which is extracted from the Kriya brand Humulus plant. The Humulus plant is not derived from the cannabis plant. It's a unique variety of the hops plant and is found in India. This plant is high in CBD and the terpenes humulene and beta-caryophyllene.
The RSHO-K product is ideal for people who want to avoid using supplements derived from hemp or cannabis.
[divider line_type="Full Width Line" custom_height="55″]
Hemp Oil, Capsules, Oral Applicators, Powders and Salves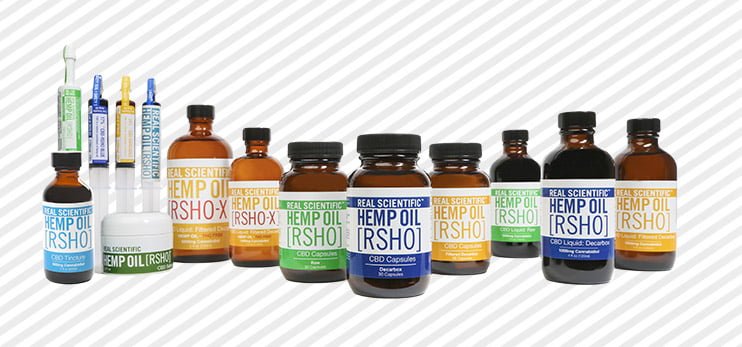 RSHO's CBD products come in many different forms that we have become standards in the industry, including:
Oral Applicators
RSHO offers oral applicators that make it easy to administer your dose of CBD. Applicators are available for Green, Blue and Gold Labels. The great thing about the applicators is that they have convenient measurement markers for precise doses every time and no waste.
Oil Tinctures
Tinctures are one of the simplest ways to take CBD oil, and RSHO offers tinctures for Green, Blue and Gold Label products.
To use the tincture, just place the appropriate number of drops under your tongue.
Capsules
If you're not a fan of the taste of hemp oil, capsules may be the better option for you. Capsules will take longer to digest and take effect but may be more convenient for your lifestyle than tinctures or applicators.
Along with full-spectrum CBD hemp oil, RSHO's capsules include 200mg of calcium and 200mg of a white willow bark and turmeric root blend.
You can buy RSHO's Green, Blue and Gold Label products in capsule form. This allows you to choose the concentration of CBD that you desire.
Isolate Powder
If you're interested in blending your own tinctures or oils, RSHO CBD isolate may be a good fit for you. The powder contains 99% CBD and is free of any tastes or smells. It also does not contain any measurable amounts of THC.
Salve
For localized pain relief, RHSO offers a salve with 50mg of CBD. The salve can also be applied topically to tackle wrinkles, age spots, dry skin, and muscle aches.
The salve also contains a unique herbal extract and camphora essential oil for added therapeutic benefits.
[divider line_type="Full Width Line" custom_height="65″]
Real Scientific Hemp Oil™ Reviews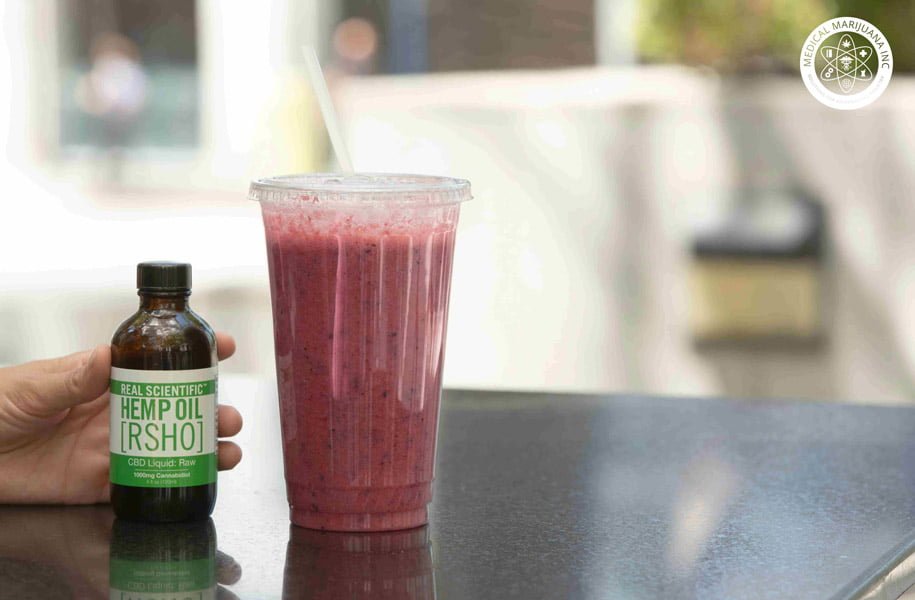 What do customers have to say about RSHO? The company's website has dozens of reviews from users, with virtually all being positive.
Users love the products, but they also compliment the company's customer service. They mention the superior quality of the product and how you truly get what you pay for with this product.
All of RSHO's products go through rigorous testing to ensure that they meet the company's quality standards. In an industry where quality and purity are of the utmost importance, RSHO is a breath of fresh air.
Our Take
We have reviewed over 100 different CBD products in 2018.  Over 220 in total going back to 2013.  With that said, the level of professionalism that HempMeds, Medical Marijuana Inc and RSHO bring to the industry is second to none.  They set the bar in terms of customer service, lab testing and sourcing.
For the money, we think that their RSHO Special Blend extract is the best value per dollar and if you have the budget, that is our #1 recommendation.
[heading subtitle=""]Shop Real Scientific Hemp Oil Now >>[/heading]