CBDistillery provides pure CBD oil and products at affordable prices. The company was founded by Colorado natives who believe that everyone should have access to quality hemp-derived CBD.
No prescriptions are required for any of their products, and the company ships to all 50 states.
CBDistillery offers a wide range of CBD-derived products – all derived from hemp.
Product Quality
CBDistillery has a strict set of standards that plants must meet to be used in their CBD products.
The company uses pesticide-free, non-GMO industrial hemp for their products. Plants are grown outdoors using organic practices, but it's important to note that their products are not USDA certified organic.  These guidelines should go without saying but we continue to be surprised with the volume of scam vendors popping up with bunk ingredients.   This is why we look for companies based in the US with 3rd party verification.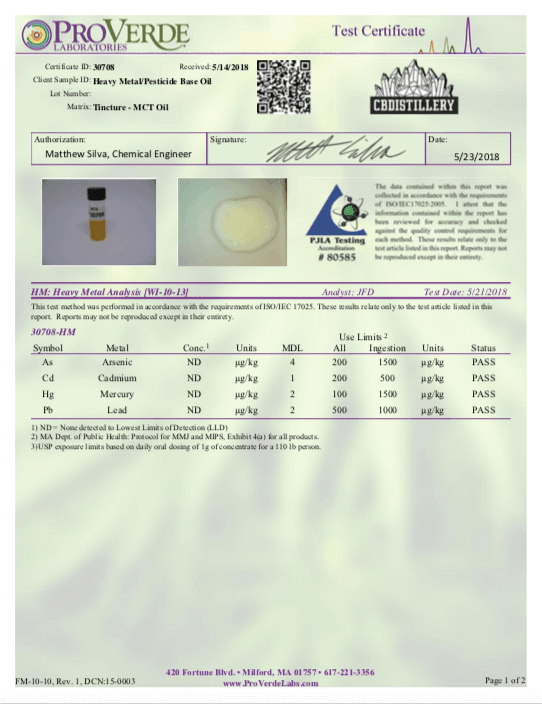 CBDistillery Reviews
CBDistillery offers a wide range of CBD products, but how good are these products?
What are customers saying about them?
Online reviews are mostly positive, and the company is transparent about customer feedback. Each product page features a review section where customers can leave a rating and a comment.
The majority of comments are positive, with customers praising CBDistillery's:
Quality
Fast shipping
Effectiveness
Our trial left us impressed with their potency, quick delivery and effective products.   We think they offer the best lineup of all the major US brands.
CBDistillery Product Lineup
From oil to wax and even pet products, CBDistillery offers a wide range of products. When viewing each product, the company includes photos of third-party test results to prove their purity.
One thing you'll notice about CBDistillery's products is that they offer both full spectrums and isolates.
Full spectrum products contain additional cannabinoids along with CBD
Isolate products are pure, isolated CBD
The company points out that CBD affects everyone in a different way, so you may need to experiment with both types of products to determine which one is right for you.
CBDistillery Full Spectrum CBD Tinctures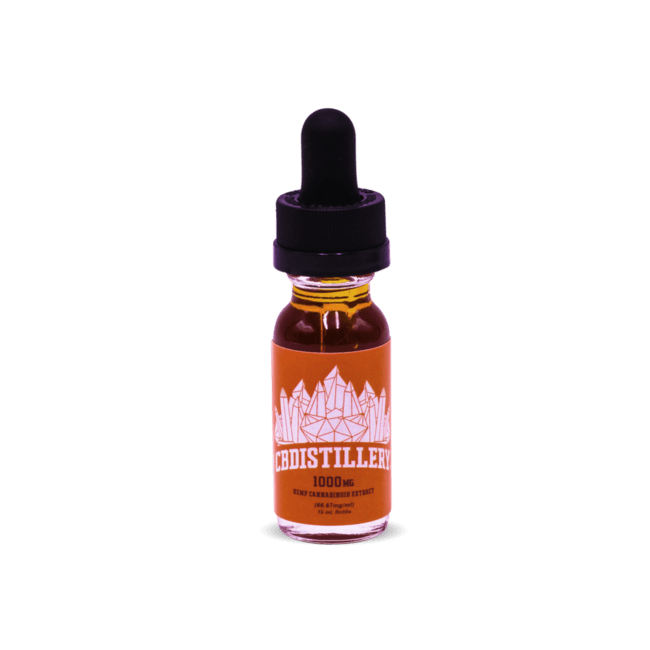 CBDistillery's full spectrum tinctures are natural and pure, offering fast relief for your symptoms. Tinctures can be taken under the tongue, or mixed into liquids for easy consumption.
The full spectrum tinctures are available in the following options:
500mg (15ml; about 1.66mg per drop)
1000mg (15ml; about 3.32mg per drop)
2500mg (30ml; about 4.16mg per drop)
250mg (15ml; 0.84mg per drop)
5000mg (30ml; about 8.32mg per drop)
Full spectrum tinctures contain CBD, terpenesand other naturally-occurring cannabinoids in the hemp plant. Easily-absorbed, CBDistillery's tinctures provide quick symptom relief.
Like other products from the company, tinctures are:
Pesticide-free
Non-GMO
Extracted from mature stalks and stems of hemp plants
The ingredient list is simple:
Extracted hemp oil
Coconut MCT oil (acts as a carrier oil)
CBD Isolate Powders and Slabs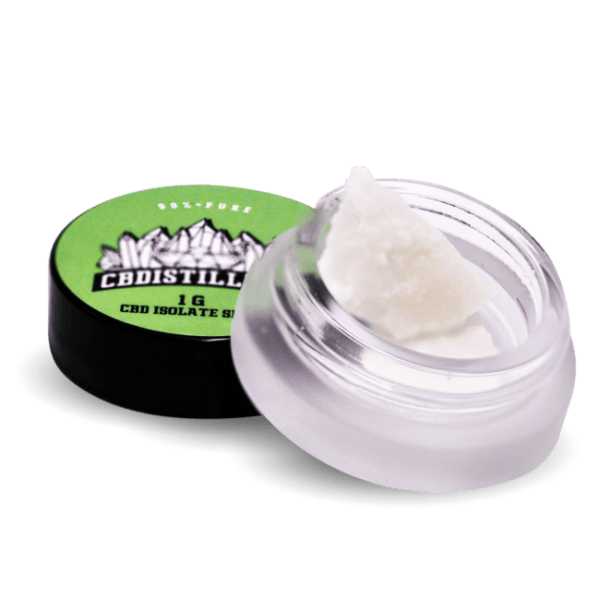 For those who want pure, isolated CBD, the company offers isolate powders and slabs. These products contain 99+% pure CBD isolate.
Each 1 gram of isolate contains about 998mg of CBD.
The powder is derived from industrial hemp oil extracted from mature stalks of the plant, which are pesticide-free and non-GMO. Both the slab and powder products are easy to incorporate into edibles and dabs.
The powder is the ideal choice to use as an ingredient in homemade products. CBDistillery offers a crystalline powder and a formulation powder. Both are nearly the same, but the crystalline powder has gone through an additional refining step to make it a better product for dabbing. The formulation powder is better when CBD is needed as an ingredient in a homemade product.
The slab products are CO2 extracted and derived entirely from industrial hemp.
Both the powder and the slab products contain only one ingredient: Anhydrous hemp oil.
Terpsolates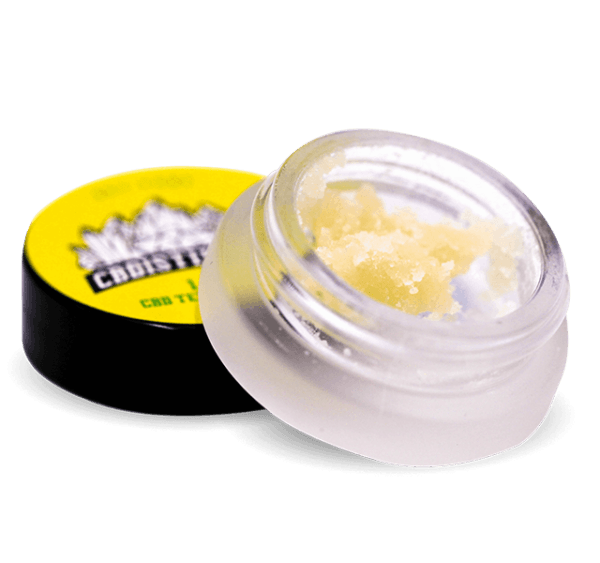 If tinctures, pills and other products don't work for you, the company offers CBD Terpsolate.
Terpsolates are robust, flavorful and aromatic.
The term "Terpsolate" refers to the CBD isolate and terpenes used to create the product. This product is most commonly used for dabbing, and contains a mixture of pure CBD isolate and terpenes (derived from hemp).
Terpsolate contains:
Anhydrous hemp oil
Terpenoids
Hemp derived CBD isolate
There are several Terpsolates to choose from, including:
Serendipity
Jack Herer
Bubba Kush
Blue Dream
Tangie
Cherry Pie
The Yummy
Berry Blossom
Cherry
The company also offers two variety pack options, each containing four flavors.
Terpsolates come in 1-gram containers.
Pet Tincture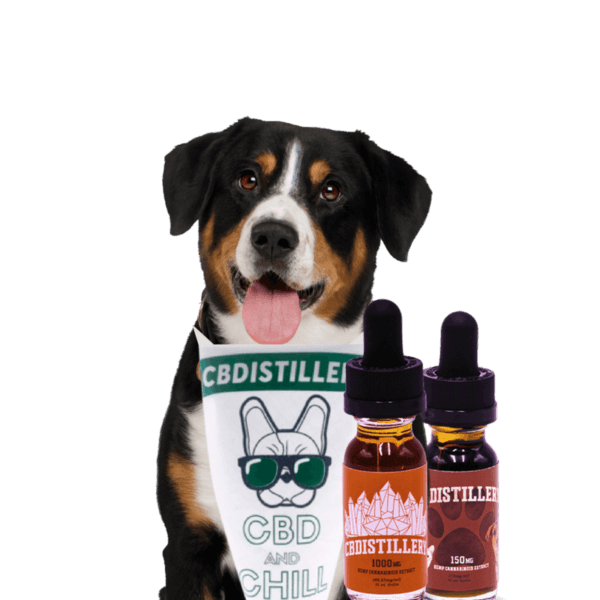 For those who want to share the benefits of CBD with their furry friends, CBDistillery offers a pet tincture product (150mg; 15ml).
The company uses cold-pressed hemp seed oil and is designed for easy absorption.
CBDistillery also offers a CBD oil pack for pets, which includes:
150mg tincture
1,000mg full spectrum CBD oil
Free CBD And Chill bandana
Those who have purchased the pet products say it helps with stiffness, arthritis, stress and anxiety (e.g. separation anxiety).
CBDol Topical CBD Salve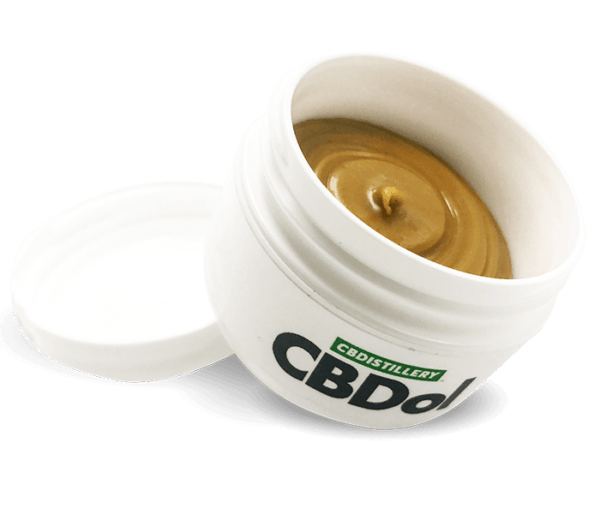 A 500mg CBD salvedesigned for topical use, offering localized relief. Salves are applied directly to the source of pain or discomfort and offer quick relief.
The benefit of topical products is that you don't have to wait for the tincture, pill or edible to travel through the digestive system.
The product comes in a 1oz. container and includes other beneficial ingredients, such as:
Eucalyptus
Olive oil
Coconut oil
Peppermint
Lavender
Marjoram
Wintergreen
Frankincense
Tea tree
Arnica
Cinnamon
Lecithin
Aloe
Grapefruit seed
Hemp seed oil
Bees wax
Magnesium
Glycerin (kosher)
Camphor
Basil
These additional ingredients work with the CBD to enhance relief while providing comfort.
CBD Softgels &Capsules
For easy consumption of CBD, CBDistillery offers capsules and softgels:
25mg (30 capsules)
30mg (30 and 60 softgels options)
The softgels contain full spectrum CBD.Both the softgels and capsules also contain fractionated MCT coconut oil to aid in absorption.
The capsules and softgels make it easy for you to get your daily dose of CBD without having to deal with measuring, mixing or preparing anything.  This are quickly becoming one of the best selling products and the growth is expected to continue for 2018.
Disposable Vape Pens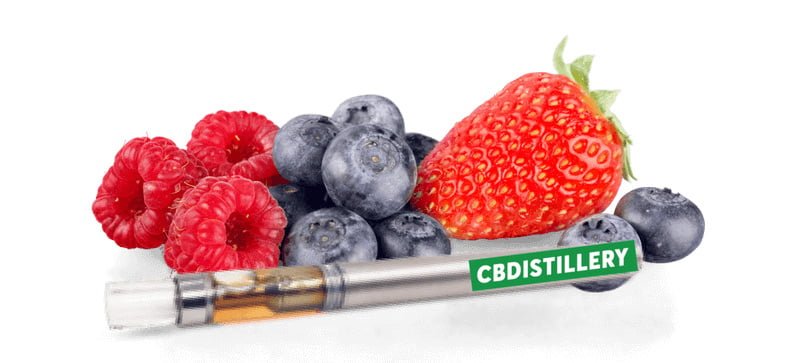 Disposable vape pens are also available. These 200mg pens come in a wide range of flavors, including:
Grand Daddy Purp
Grape
Lavender vanilla
GG#4
Strawberry lemonade
The company also sells vape cartridges and variety packs, so vape users can take advantage of their CBD products.
Along with the flavoring, the vape liquid contains triple-distilled MCT (fractionated coconut oil). None of the vape pens contain VG, THC or PG.
CBDistillery's vape pens are easy to transport, compact and smoke-free. Because they're easily absorbed by the body, they offer quick relief from your symptoms.
Wax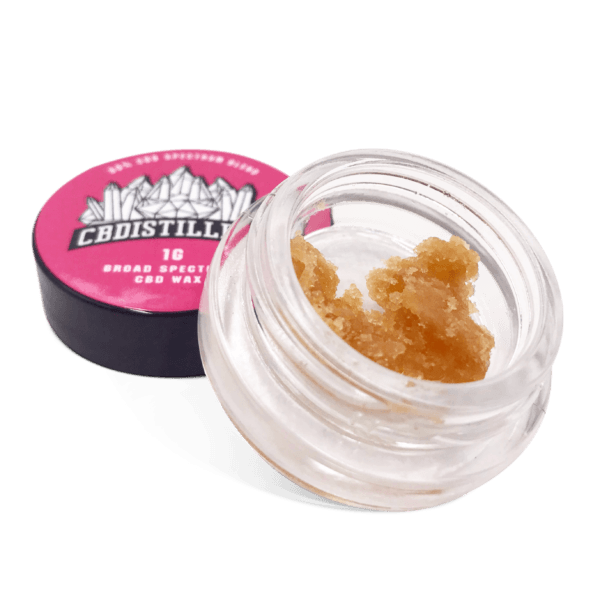 Ideal for dabbing,CBDistillery's wax comes in 80% broad spectrum strength and in 1 gram size.
The company's wax contains just one ingredient: THC-removed broad spectrum hemp oil.
CBDefine Skin Care Cream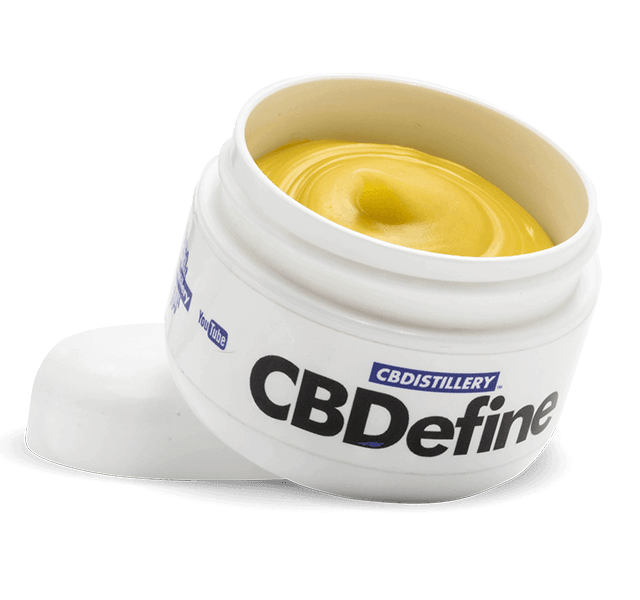 CBD's anti-inflammatory properties are beneficial for the skin. CBDistilleryoffers a 500mg skin care cream called CBDefine.
Daily application of CBD to the skin can help improve blood flow while reducing inflammation.
Other ingredients in CBDefine include:
Sunflower oil
Apricot oil
Coconut oil
Olive oil
Hemp oil
Lavender
Almond oil
Rosemary
Frankincense
Helichrysum
Tea tree
Aloe
Bees wax
Glycerin
Grapefruit seed
To maximize results, CBDefine should be applied in the morning and evening before bed.
CBD Suppositories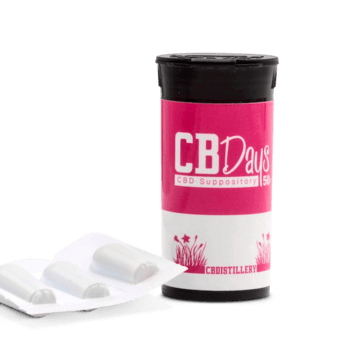 CBDistillery wants to ensure that customers have a wide range of options when ingesting CBD. That's why they offer their CBD products in suppository form.
Suppositories are one of the fastest ways to get relief. They're also a great option for users who have stomach pain or nausea.
As you can see, CBDistillery offers a robust product lineup and has a delivery vehicle that should fit your needs.
Product Shipping and Customer Service
At this point in time, CBDistillery only ships to the United States and through USPS. The company ships products within 48 business hours of payment processing. Shipment to military bases is not available through USPS.
CBDistillery can be reached via email. Customer service typically responds to questions within 1-2 business days.
CBDistillery Discounts
Check here for the lastest CBDistillery coupon codes and loyalty discounts.