CBDfx is unlike other brands in the CBD market we have reviewed.
Along with offering products, the company takes a strong interest in plant medicine and puts a lot of energy into publishing educational materials on cannabis extracts. We greatly appreciate this unique stance as they open up many new possibilities for learning about new health benefits from CBD.
They also offer one other important thing we look for: Certificate of Analysis to prove that their full-spectrum products are truly full-spectrum.
They were also the first company to produce vegan CBD gummy bears.
CBDfx offers a wide range of edibles, from gummy bears to drinks, tinctures, concentrates and capsules. They also offer vape pens for those who want to take a more "traditional approach" to ingesting CBD.
CBDfx's quality is impressive, and they have perhaps the best edibles we've tested.
And each product page has a link to the company's lab report and analysis so that you can confirm the amount of CBD.
CBDfx Product Lineup

Whether you prefer to vape, take a shot or eat gummies, CBDfx has a CBD product that you'll enjoy.
CBD Drinks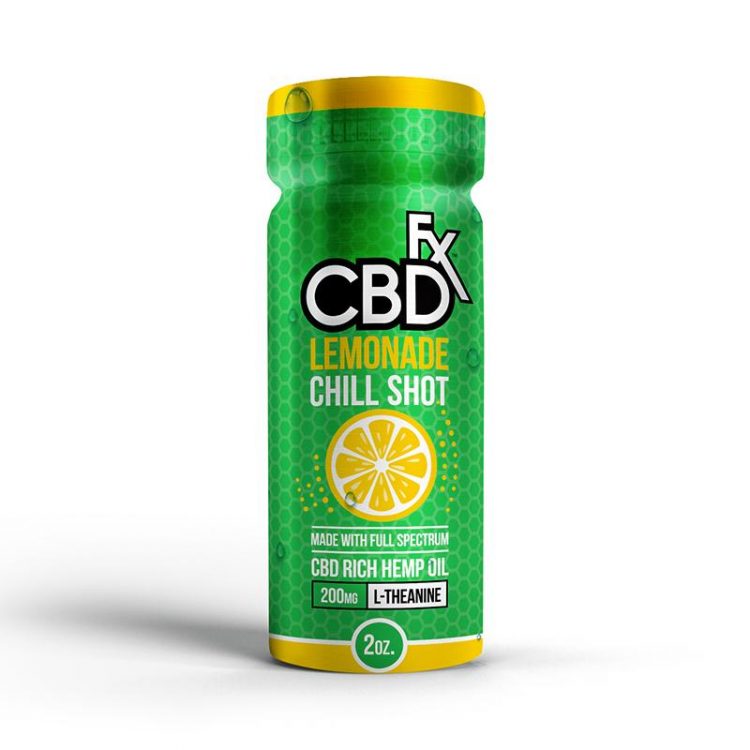 One of the most popular and unique products in the CBDfx line-up is their CBD shot, known as "Chill Shot," makes it easy to get your dose of CBD every day. And just as its name suggests, the drink is best enjoyed cold.
This lemonade-flavored drink provides a 20mg dose of full-spectrum CBD that's organically grown. The drink also provides 200mg of L-Theanine.
L-Theanine is an amino acid found in black and green tea that works to improve the body's immune system.
The CBD Chill Shot is:
Rich in terpenes and cannabinoids
Organically grown
A natural source of vitamins and minerals
Formulated with full-spectrum hemp oil, which includes amino and fatty acids
The drink is made with non-GMO ingredients.
On the product page, CBDfx makes it easy to view the Certificate of Analysis, which was performed by PharmLabs in San Diego.
Here's what the analysis found:
Total CBD: 0.03%; 0.32 mg/mL; 19.2 mg/Unit
Total THC: 0.00%; 0.00 mg/mL; 0.0 mg/Unit
If you're health-conscious, you'll love short list of ingredients in CBDfx's Chill Shots.
Here's the complete list of ingredients:
Water
Lemon flavors
Citric acid
L-theanine
CBC rich hemp oil
Soy lecithin
Sodium chloride
Sucralose
Sodium benzoate
Gellan gum
The Chill Shot comes in a 2-ounce bottle. You can buy single bottles, a 3-pack, a 6-pack or a 12-pack.
Will Drinking CBD Give You the Same Benefits as Vaping?
Yes. CBD is a flexible plant. It will affect the body in the same way whether you're vaping it, drinking it, taking it as a tincture, or applied to the skin. With that said, there will be ingestion differences from person to person.
CBDfx Chill Shots provide an easy and delicious way to get your daily dose of CBD on the go.
CBD Gummies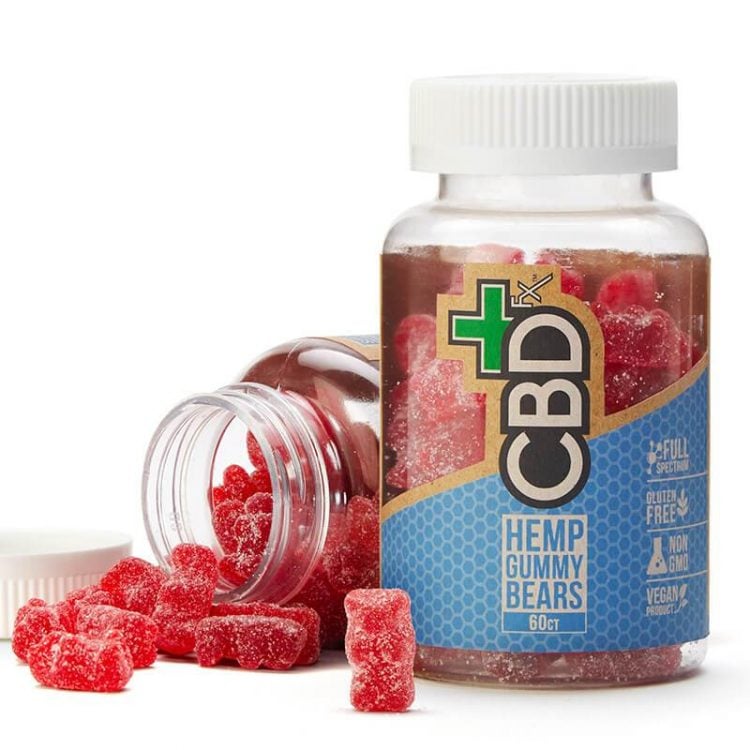 If drinking CBD isn't your thing, you may prefer gummies. Like the Chill Shots, the gummies offer extra ingredients that offer additional health benefits.
CBDfx offers two types of gummies: berry flavored, and one with turmeric and spirulina.
The berry-flavored gummies are 100% vegan, use ingredients that are organically grown and are free of artificial sweeteners and corn syrup.  These are hands down the best tasting gummies we have tried.
Each bottle contains 60 gummies, each with 5mg of pure CBD oil.
The ingredients in CBDfx's gummies are simple and free of anything artificial.
Berry Gummy Ingredients
Organic cane sugar
Water
Organic tapioca syrup
Organic seaweed extract
Natural colors and flavors
Organically-grown CBD-rich hemp oil
Turmeric and Spirulina Gummy Ingredients
Organic honey
Organic cane sugar
Purified water
Organic seaweed extract
Tri sodium citrate
Citric acid
Natural flavors and colors
Turmeric
Spirulina
Organically-grown CBD-rich hemp oil
What's the big deal about turmeric and spirulina?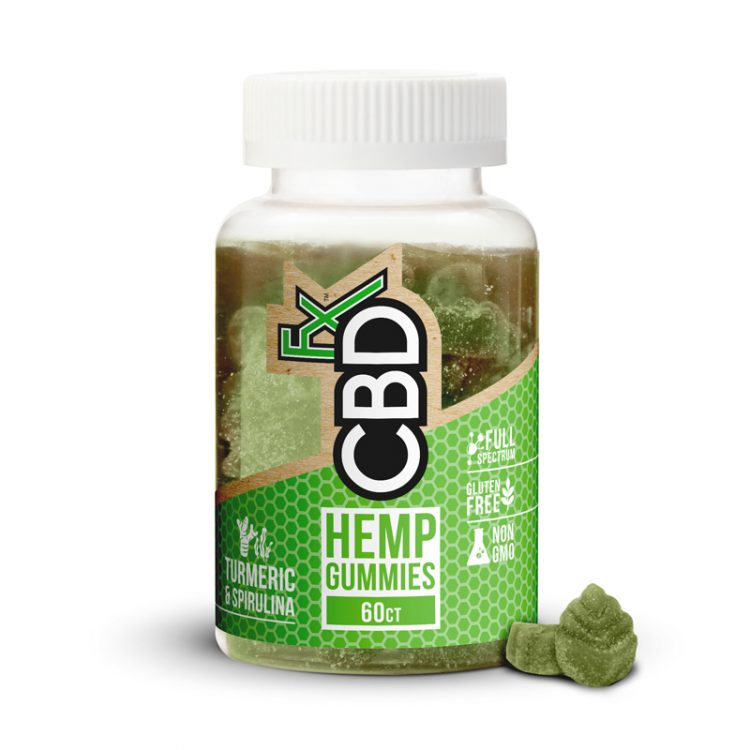 Native to India, turmeric is a spice that has been used for centuries to promote health and well-being. The spice has anti-inflammatory properties as well as antioxidants. Curcumin is the active ingredient in turmeric.
Spirulina is a bacterium that grows in water, and dates all the way back to the Aztec civilization. Rich in protein, copper, iron and magnesium, spirulina is truly a superfood. In fact, the protein in this ingredient is comparable to eggs and contains all essential amino acids. Spirulina also has anti-inflammatory properties as well as antioxidants.
To reap the full benefits of CBDfx's gummies, all you need is one to two gummies per day.
CBDfx Disposable Vape Pen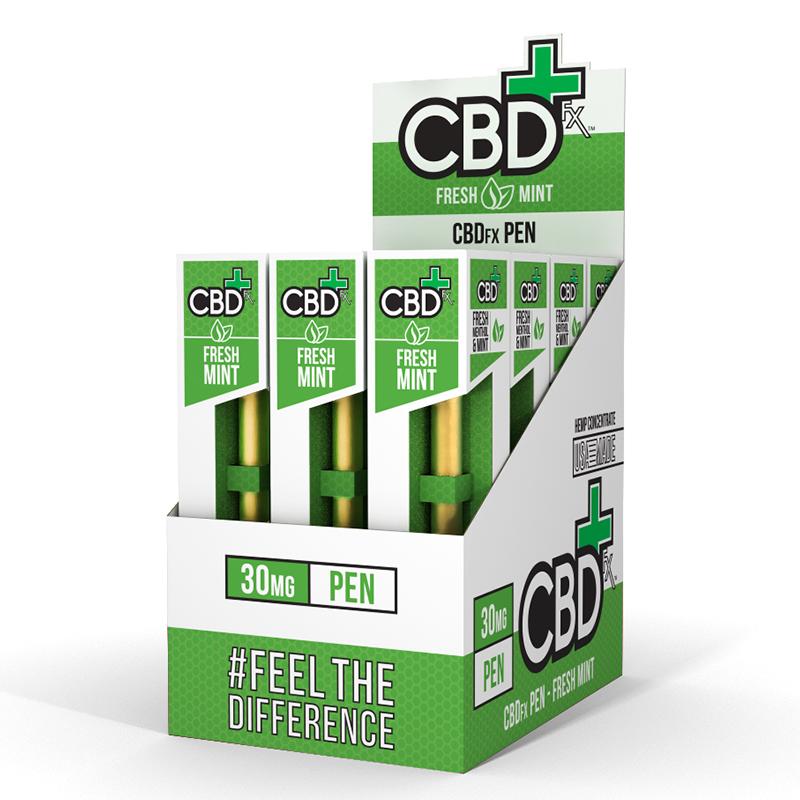 Along with drinks and gummies, CBDfx offers disposable vape pens, kits and vape juice. CBDfx's brand of vape pens and kits come in a wide range of flavors:
Tropic breeze
Fresh mint
Blue raspberry
Strawberry lemonade
The benefit to choosing the brand's disposable vape pens is that you never have to worry about dosage. Each pen is already filled with just the right amount of vape juice. All pens are fully charged and assembled, so you can start using it right out of the box. Because these pens are draw-active, there are no buttons to fiddle with.
CBDfx also offers a vape kit, wax pen, cartridges and atomizers.
If you already have your own vaporizer, you can simply buy their vape juice. Along with high-quality hemp oil, their juice contains propylene glycol, vegetable glycerin and other natural flavors.
The vape juice products come in a range of flavors in addition to the ones listed above, including:
Rainbow
Fruity cereal
Strawberry kiwi
Strawberry milk
Wild watermelon
Fruit smoothie
Gelato
Pineapple Express
OG Kush
Platinum Rose
Strawberry jelly donut
Many of the juices are available in three concentrations: 250mg, 500mg and 1,000mg.
CBD Topical Creams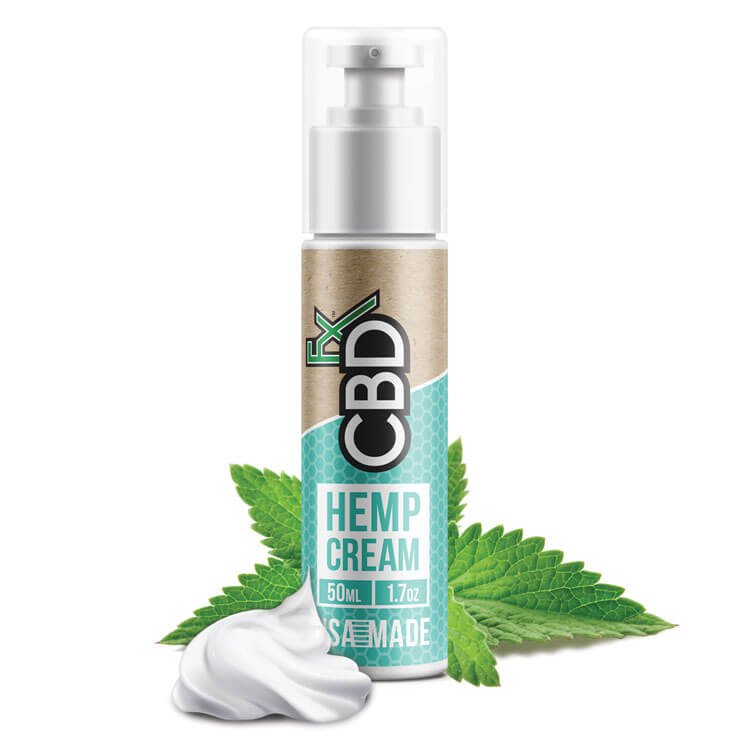 If you'd rather steer clear of edibles, CBDfx offers topical creams that will help you get your dose of CBD. The cream comes in two concentrations: 100mg and 150mg.
Made in America, the creams also contain white willow bark extract, menthol as well as caffeine. These ingredients, when combined with the CO2-extracted CBD, offer natural pain relief.
White willow bark has been used for hundreds of years as an anti-inflammatory and pain reliever. Caffeine works to stimulate blood flow to the area, which helps speed up the healing process. Menthol, derived from the mint plant, has natural analgesic properties that act as a gentle numbing and cooling agent.
CBD topical creams are great for localized pain, and the CBD is easily absorbed through the skin. The cream is safe to use every day.
Vape Oil Additives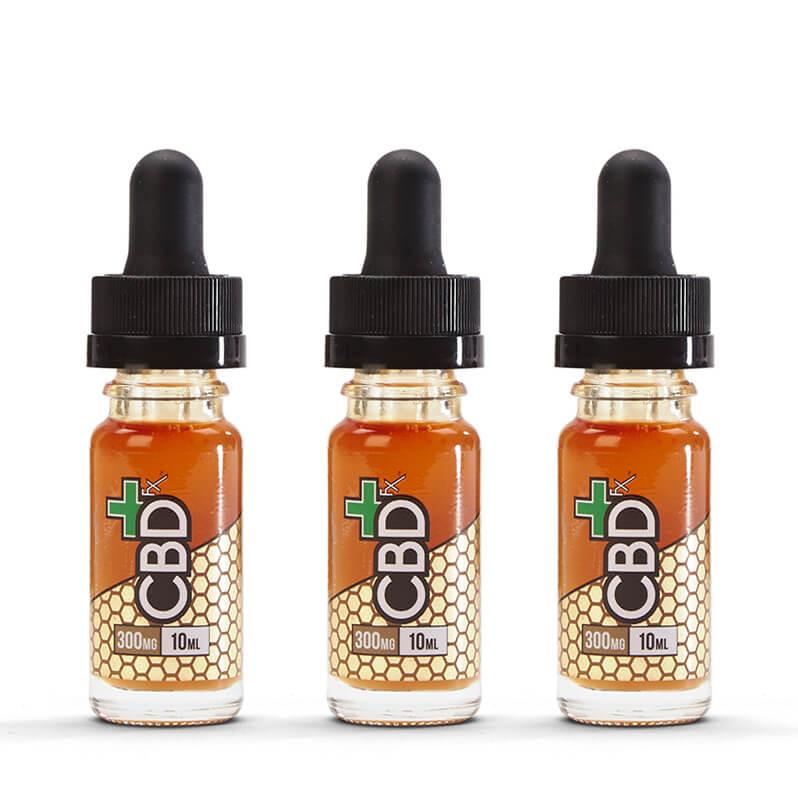 CBDfx also offers vape oil additives that mix easily with your preferred e-juice thanks to the included dropper. The oil comes in several concentrations, including: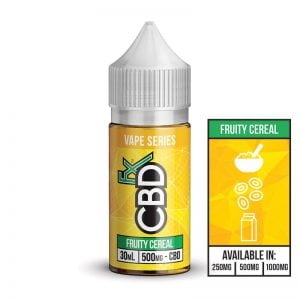 The oil provides the leafy, tea-like flavor of the hemp plant, so it mixes well with sweet-flavored e-liquids.  They offer plenty of yummy flavors too.
The vape oil additives contain just three ingredients: proprietary blend of CBD, vegetable glycerin and propylene glycol.
CBDfx's vape additives are cGMP certified and made in the USA. They can also be taken orally if you prefer not to vape.
Tinctures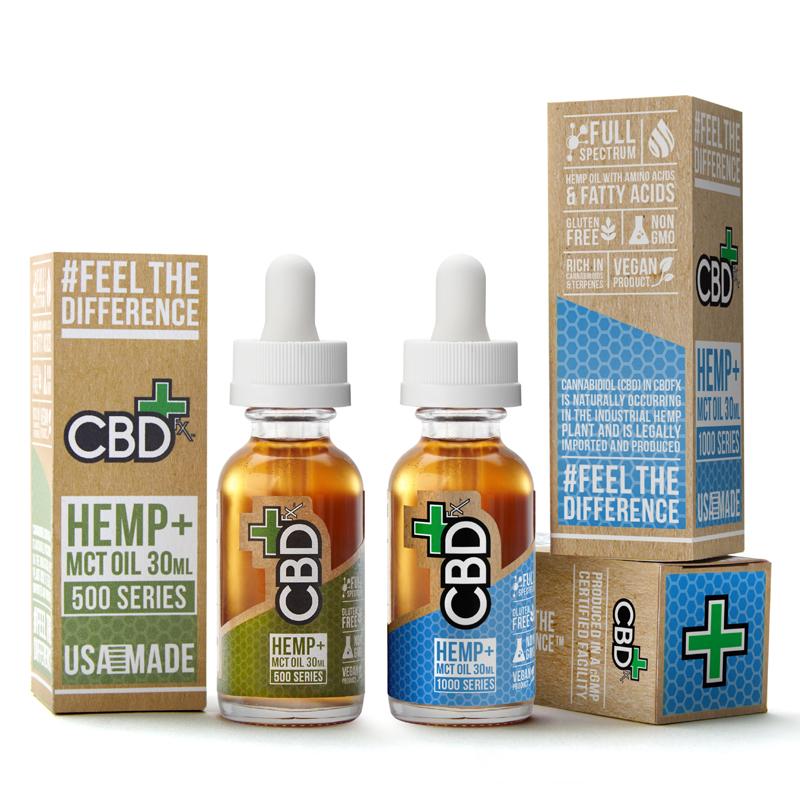 For quick relief, tinctures are a smart option. Like with the vape oil additive, CBDfx's tinctures come in several concentrations:
The tinctures contain just two ingredients: MCT oil (derived from coconuts) and full-spectrum hemp oil.
MCT (medium-chain triglycerides) are fatty acids that are easily absorbed and broken down by the body to be used as energy.
Unlike the vape oil additives, tinctures cannot be vaped. They are designed to be taken sublingually (under the tongue). Just a few drops are all you need for relief.
In addition to single-concentration products, CBDfx also offers a tincture bundle with one of each concentration.
Capsules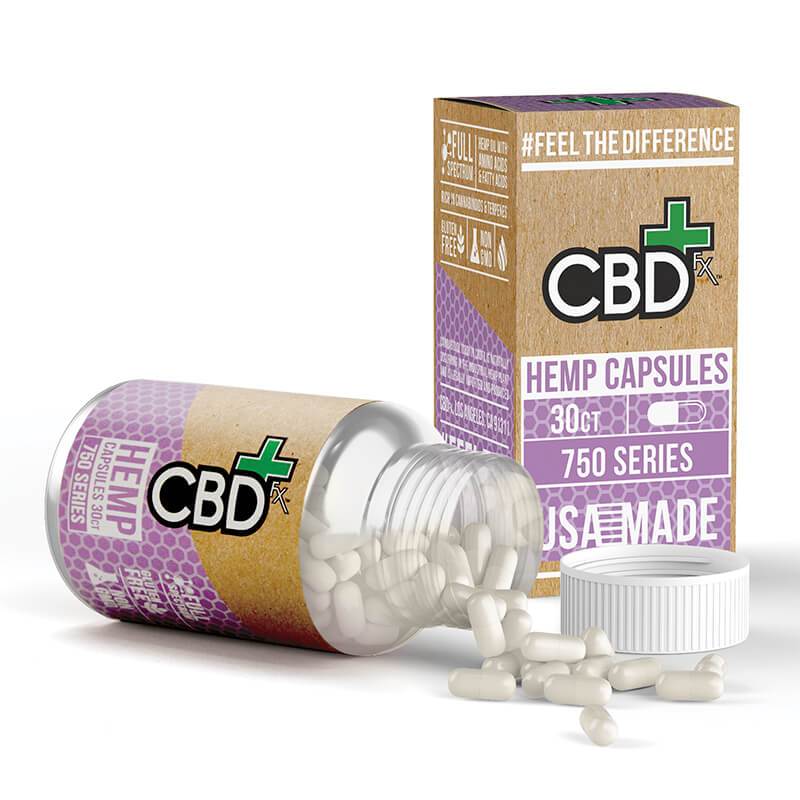 Simple, convenient and flavorless, capsules are a quick and easy way to get CBD without having to drink, eat or vape it.
Each capsule has just the right amount of CBD to provide you with the relief you need.
CBDfx offers capsules in two concentrations: 200mg and 750mg. The 200mg capsules come in packs of eight, while the 750mg capsules come in a bottle of 30. The concentration refers to the entire container, not each capsule. Each pill contains 25mg of CBD.
The capsules contain the following ingredients:
CBD
Hemp oil 125mg
Gelatin
Silicon dioxide
When just getting started with the capsules, CBDfx recommends taking just one pill to gauge your reaction. Over time, you can increase your dosage as needed. The company recommends taking one to two capsules per day with food.
Dabs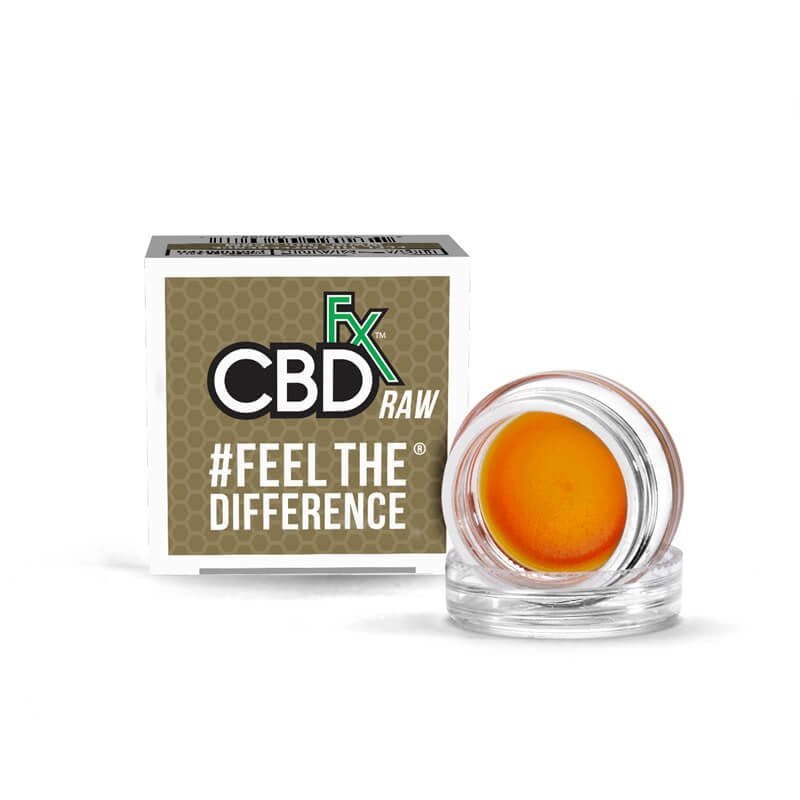 If you love to dab, CBDfx offers CBD wax. The wax is the solidified form of pure CBD hemp oil concentrate.
And if you don't have a wax pen, CBDfx sells one.
The full-spectrum CBD oil contains amino acids and terpenes. The wax contains one gram of 30% CBD oil and 300mg of pure CBD. The potent wax containers offer 20 servings. That's almost a month's supply if you use it once daily. To get the full benefit of the wax, apply a rice grain sized dab on the coil of the pen.
If you're not a fan of dabbing, you can still use the wax. The CBD can safely be absorbed through the mouth and cheeks. Just scoop a rice grain sized amount of the wax out of the container and place it under your tongue. Hold the wax under your tongue for 30 seconds before swallowing to give the wax time to melt.
Where to Buy CBDfx Products
The best way to get genuine CBDfx products is to purchase directly from the manufacturer. There are third-party sites that sell the brand's products, but you're taking a risk by purchasing them.  We have an exclusive 10% off CBDfx coupon code: CBDAR10