Bluebird Botanicals Takes The Lead In Reliable CBD Products
Still looking for your go-to provider for high-quality hemp oil products?  A number of companies have impressed us, but recently one has knocked our socks off—and that is Bluebird Botanicals.
Bluebird Botanicals produces highly concentrated hemp extracts which are rich in cannabinoids (CBD).  The company was founded in 2012 in Boulder, Colorado by an herbologist named Brandon J. Beatty.  The original product line hit the market in 2013, and ever since, the company has grown in popularity while expanding its catalog.
In this introduction, I am going to introduce you to Bluebird's most popular CBD oil products.  But first, I'm going to tell you a little bit more about the company and how they manufacture their products.  I want you to know what sets them apart from their competitors.
Why Bluebird Botanicals?
Here are just a few of the practices and benefits of Bluebird Botanicals which is putting the company ahead of the pack in the CBD oil market:

100% Colorado-grown hemp.  Nothing is imported.  The company uses high-quality, locally harvested hemp for its CBD oil extracts.  All are grown through sustainable farming practices.
Ethanol/alcohol are used to extract hemp.  This method is safe, cold, and clean, which means that it does not burn away sensitive compounds such as terpenes.  This keeps the hemp oil as potent as possible.
This company protects the environment.  All packing materials are made out of biodegradable corn starch peanuts.  The receipts are made from 100% recycled paper.
Need to order CBD oil on a regular basis?  Bluebird Botanicals has a really cool financial assistance program.  Anyone who can prove they have a long-term medical disability can apply to receive 25% off of their future orders.  The same goes for veterans, disabled or otherwise.  Finally, if you are living beneath the federal poverty level, you can apply to receive a full 40% off.  This is an amazing program.  How many other companies offer something like this?  Not too many!
Bluebird offers hemp products in a variety of categories.  These include regular extracts, concentrated extracts, isolates, vapes, capsules, pet products, and apparel.
The company consistently receives great reviews for its fast and friendly customer service.
Bluebird Botanicals is setting the standard right now for quality control.  The company has every bottle tested by third parties to check for mold, microbes, heavy metals, pesticides, herbicides, insecticides, and residual solvents.  Additionally, third parties check the potency to make sure it matches what is on the bottle.  All products are manufactured according to Good Documentation Practices (GDPs) and Current Good Manufacturing Practices (CGMPs).
Associations & memberships are another benefit of Bluebird Botanicals.  The National Hemp Association offers a discounted rate to friends of Bluebird Botanicals.  See more here.
There is a 365-day guarantee on all Bluebird Botanicals products.  Seriously, how many other companies offer a guarantee like that?  Most will confine you to 30-60 days at most to try out the products.  But with Bluebird you get an entire year, no questions asked.  This is just awesome.
Where Bluebird really goes above and beyond is in allowing customers to look up a specific batch number.  The batch number can be located on the label of the product or on the bottom of the bottle.  Entering in the batch number on the company's website will pull up the actual third-party test results for that specific batch.  There is a Batch Database where all results can be browsed at will as well.
In short, you do not have to just take the company's word for it that what you are receiving is high in quality.  You can verify it for yourself for your specific bottle.  That is a really big deal, and a complete rarity not just in the hemp oil industry, but in the entire supplements industry.
Our Favorite Bluebird Botanicals CBD Products
Now you know what makes Bluebird Botanicals such an exciting CBD oil manufacturer!  So let's take a look at some of the company's top products, focusing mainly on Bluebird's concentrated hemp oil extracts.
Classic 6X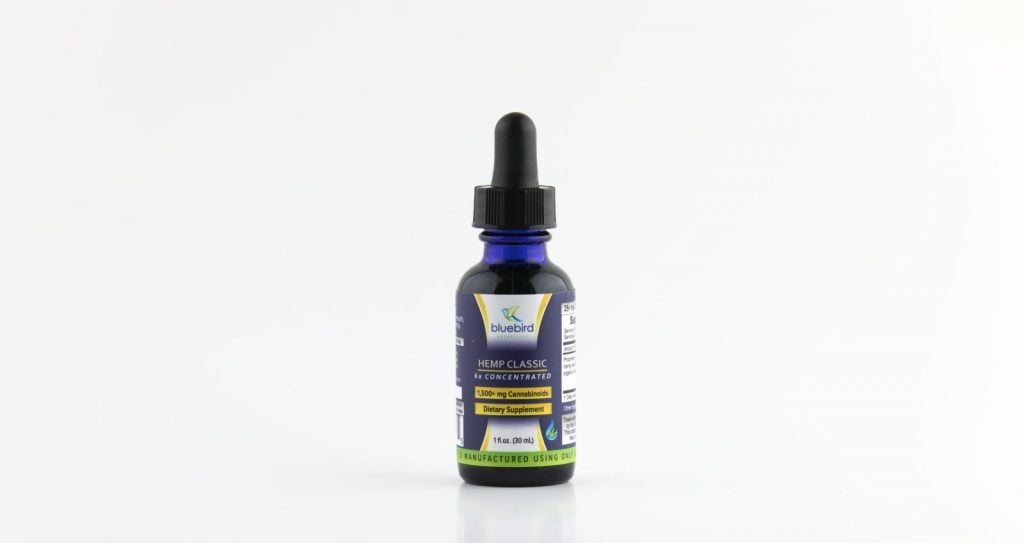 A great starting point if you are going to purchase concentrated hemp extracts from Bluebird Botanicals is the Classic 6X.
1,500+ mg of cannabinoids in every ounce.
Contains hemp extract and hempseed oil.
No fillers or additives.
A range of size options is available starting at 1/3 ounce for $44.95 and going as high as 8 ounces for $599.95.
This product is packed with CBD.  The original blends sold by Bluebird Botanicals contain 250 mg+ CBD per fluid ounce, whereas this product contains around 6 times that.
Storing and using it is easy.  You can keep it at room temperature or in the fridge (it will have a longer shelf life in the fridge).  To take it, you just swirl it gently, then take around 15 drops.  You can ingest it with food or without.
What We Love About Classic 6X
A lot of hemp oil products contain a lot of extra additives, flavorings, etc.  This one contains only the hemp extract and the hempseed oil listed.  There is nothing else in these bottles, so it is hard to beat the purity.
The high concentration is great, and makes this an excellent value.  Also, if you purchase a larger bottle, you do save significant money.  Considering right now that an ounce is $109.95, $599.95 for 8 ounces is incredible.
This product is easy to take, and the fact that you can use it at any time of day regardless of when you have eaten is awesome.
The only potential drawback here is the taste, which is both bitter and strong.  There are people who enjoy it, but some find it off-putting.  Thankfully, you can mix this stuff right into a smoothie to take that bitter edge off and conceal the flavor a bit.
Consider Purchasing Classic 6X If:
You are looking for a highly concentrated hemp extract for a reasonable price.

You want a hemp oil extract which is free of unnecessary flavors and additives.
Signature 6X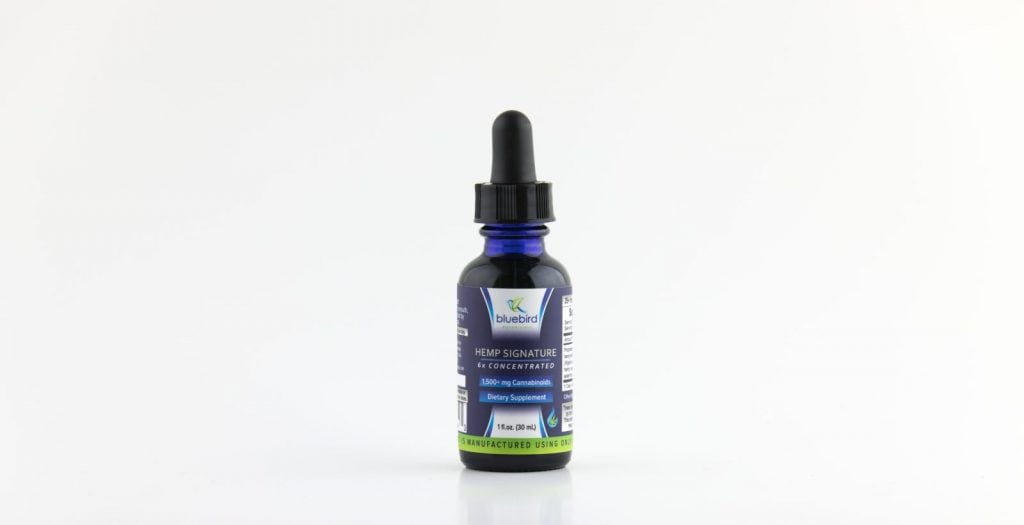 This product is similar to the Classic 6X in that it contains 15,000 mg of CBD per ounce.  With the addition of black cumin seed and frankincense, this blend is ideal for promoting relaxation.  Additionally, the frankincense has disinfectant properties.
1,500 mg of CBD per ounce.
Ingredients: Hemp extract, black cumin seed, frankincense.
There are no fillers nor additives in this product.
The Signature 6X product offers all the same benefits as the Classic hemp extract, but the additional ingredients mean it may be an especially soothing blend for treating conditions involving sleep disorders, anxiety, and so forth.
What We Love About Signature 6X
This is another highly concentrated hemp oil extract which provides plenty of cannabinoids.
The additional ingredients provide extra health benefits and make this a relaxing blend.
You can take this on a full or empty stomach any time of day.  Just swirl the bottle and take around 15 drops, give or take.
This product is only marginally more expensive than the Classic blend, and great savings are available if you purchase the larger size bottles.
Consider Purchasing Signature 6X If:
You are looking for a CBD oil blend to treat anxiety, insomnia, or other disorders where promoting relaxation is important.

You want a hemp oil extract which is free of fillers and additives. 
Complete 6X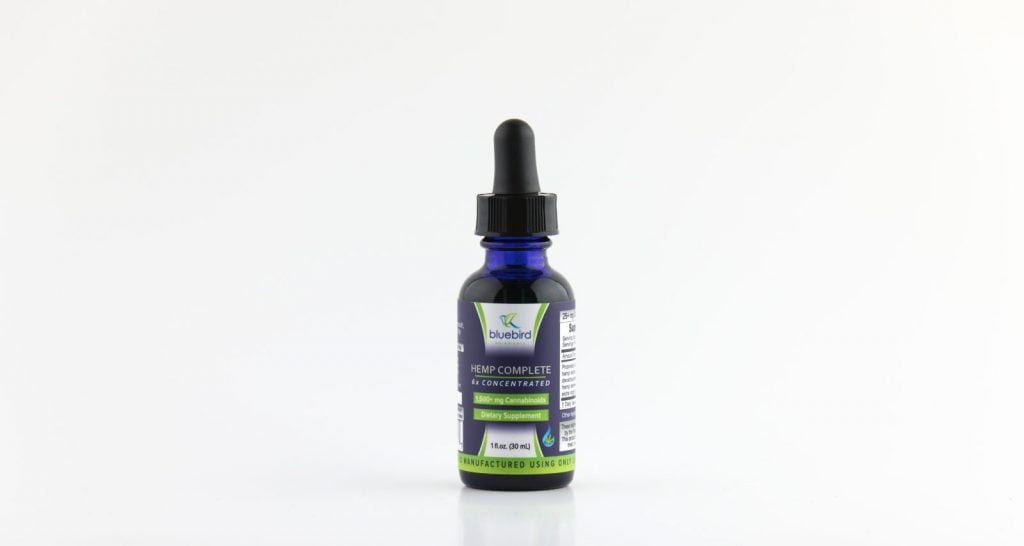 This concentrated extract contains 1,500 mg of cannabinoids per fluid ounce with the addition of steam-distilled hemp terpenes.
Contains a 1:1 ratio of raw and heated cannabinoids.
Steam-distilled hemp terpenes
Olive oil
Sizes available range from 1/3 ounce through up to 8 ounces.
The 1:1 ratio of raw and heated cannabinoids is what differentiates this from the Classic blend.  This is a combination of both decarboxylated (CBD) and non-decarboxylated (CBD-A) cannabinoids.  As to the terpenes, there are at least 26 types along with ketones and aldehydes included.  This makes the Complete blend one of the most comprehensive therapeutic hemp extract products on the market right now.
What We Love About Complete 6X
The unique blend of cannabinoids provides you with the best of all worlds in terms of therapeutic benefits.
As with Bluebird's other products, this one contains no added fillers.  All the ingredients are completely natural.
This product is easy to use and can be taken morning or night with or without food.
All things considered, the Complete 6X really is not much more expensive than the other blends of concentrated hemp extract I have shared with you here.  This makes it a fabulous value.
As with the other hemp products by Bluebird Botanicals, the flavour of this one is strong and bitter, so stir it into something else to mask the taste if necessary.
Consider Purchasing Complete 6X If:
You want the most complete profile of cannabinoids and terpenes that the company has to offer.
6X Sample Pack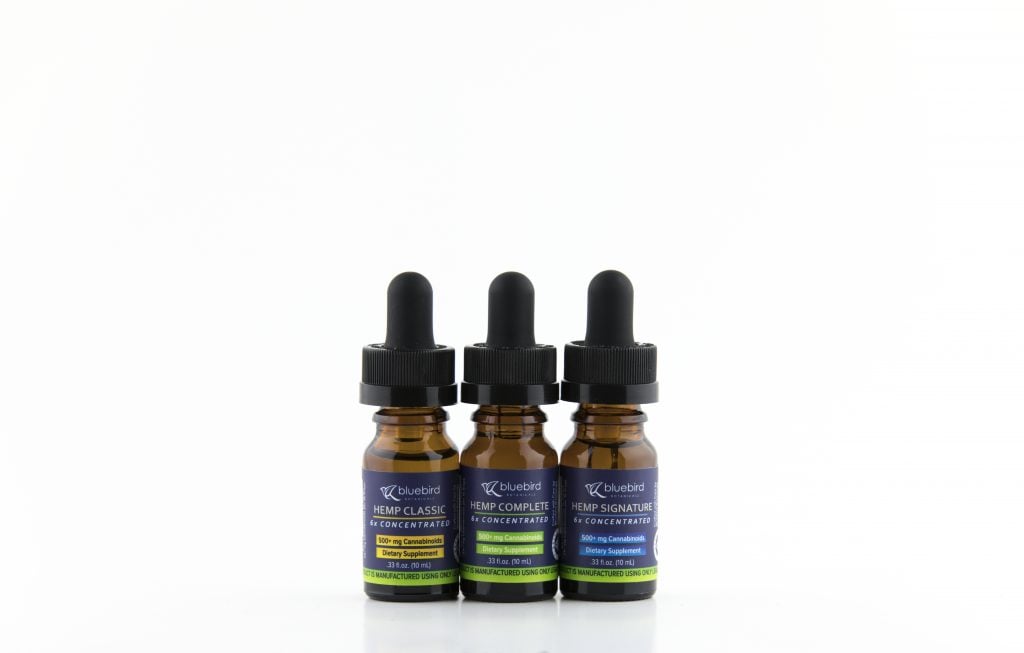 Not sure whether you want the Classic 6X, the Signature 6X or the Complete 6X?  Bluebird does sell a hemp oil sample pack which allows you to give all three a try.  This was my initial introduction to the company and a simple way to find which product is best for you.

You get three 10 ml bottles in total.  That way you can figure out which blend works best for you.  Or you might very well find that different formulas work better for different applications, and that a combination of concentrated extracts best serves your needs.  There may be days when the Classic 6X is what you need, and others on which the Signature 6X is perfect.
Click here to order direct from BlueBird Botanicals Now!
Other Bluebird Botanicals Products to Consider
While I wanted to focus on the concentrated extracts from Bluebird Botanicals in this review, it is worth quickly going over the rest of their catalog as well.  Bluebird offers quite a few other high-quality hemp products, including:
Regular hemp oil extracts.  This line also includes Classic, Signature, and Complete blends.  The only difference is that they are not as highly concentrated.  They are a good option if you are on a budget and/or are looking for something less potent (personally I'd recommend the concentrated extracts if you can afford them, but these are a nice alternative if you cannot).
Hemp capsules.  Can't stand the taste of hemp extracts no matter how you try to mask it?  With Bluebird's hemp capsules, you don't have to.  Just take these gelatin capsules with water and enjoy the same great benefits.
CBD vape oil.  Vaping is another great way to enjoy the health benefits of CBD.  Bluebird sells vape oil as well as a CBD vaporizer set, making this a one-stop shop for all your vaping needs.
Isolates.  Bluebird Botanicals sells several isolate products: CBD isolate, CBG isolates and bulk CBD isolates.
Pet products.  Just like you, your pet has an endocannabinoid system, and can benefit from CBD.  This is why Bluebird manufactures a couple of pet products: Companion Oil and Companion Capsules.  You can give your pet whichever form is easiest for your furry companion to digest.
Hemp clothing and accessories.  Bluebird has an entire section dedicated to attire and accessories, but currently is only offering the Ultra-Soft Bluebird Hemp Shirt (a blend of 60% hemp and 40% organic cotton).  The shirt features the Bluebird logo on the front and "Made with HEMP" on the back with a cannabis leaf design.  This is a great way to show your brand loyalty if you end up becoming a fan of Bluebird's products.
Click here to order direct from BlueBird Botanicals Now!
Bluebird Botanicals FAQ
Q: What is the endocannabinoid system?
A: While researching Bluebird Botanicals and other hemp products, you probably have seen some references to the "endocannabinoid system," and may be wondering what this is.  Sometimes called "ECS" for short, the endocannabinoid system is a set of endogenous cannabinoid receptors located throughout your nervous system and brain. 
The endocannabinoid system plays a number of regulatory roles in your body, and is involved with processing and balancing mood, sleep, memory, appetite, pain, and more.
Interestingly enough, your body actually can produce cannabinoids, and does so in order to regulate these essential life functions.
So when you take CBD products like those from Bluebird Botanicals, you are providing your body with additional cannabinoids to act on the ECS.  This is the mechanism through which CBD oil exerts its therapeutic effects, helping to reduce inflammation and pain, improve mood and sleep, and so forth.
Q: Does hemp oil contain CBD?
A: The short answer is "yes."  The long answer is that the differences between CBD oil and hemp oil are a bit complicated—and also rather nebulous.
Speaking in formal terms, hemp oil is generally considered to be plain and simple hemp extract which contains low levels of CBD, generally defined as less than 25 parts per million.
CBD oil on the other hand is generally considered to be a more highly concentrated extract (usually right from the cannabis flowers) containing around 150,000 parts per million.
The reason I say that this is a nebulous distinction is that it is common for CBD products to be labelled as "hemp oil," and sometimes vice versa.
All you really need to know regarding Bluebird Botanicals' hemp oil products is that they do contain CBD, and the concentrated extracts contain high amounts of it with all the therapeutic effects you are looking for.
If you do have further questions about these distinctions, I recommend getting in touch with Bluebird's customer service team.  They are super helpful!
Q: What type of testing do Bluebird Botanicals use for their products?
A: Bluebird runs in-depth third party testing to check for mold, microbes, heavy metals, pesticides, insecticides, herbicides, and residual solvents.  You can read about it here.
Q: Where to buy Bluebird Botanicals CBD oil (only direct from company) ?
A: You can only purchase Bluebird Botanicals CBD oil online direct from the company.  In fact, scroll down to the bottom of this page to order now!
Summary and Conclusion
Right now, Bluebird Botanicals is one of the most exciting hemp oil manufacturers out there.
Their concentrated extracts are an amazing deal, and have undergone some of the most rigorous tests in the industry to ensure their purity.
Bluebird Botanicals Pros:
Bluebird's catalog includes several different highly concentrated extracts rich with CBD.  They also provide an array of other basic extracts, isolates, vaping supplies, capsules, and even pet products.
Because Bluebird uses hemp extracts, you are getting the full spectrum benefits of CBD.
Bluebird's products are very reasonably priced.  And if you are low income, a veteran, or you are considered legally disabled, you may qualify for an ongoing discount.
All of Bluebird's products are third-party tested, and you can view the test results for each specific batch right on the website.  Transparency like this is very rare.
All hemp used in Bluebird's products is locally grown and harvested according to eco-friendly practices.
Bluebird has great customer service.  If you ever have a question or a comment, the team is fast and responsive.
Bluebird Botanicals Cons:
These products do not taste very appealing, unless you happen to like that strong, bitter flavor.  This is simply the price you pay though for purchasing a pure hemp extract without additives.  Hiding the flavor is not too difficult though if you just stir it into applesauce, a smoothie, or so forth.
If your order totals $250 or more, you will have to be present to sign for your package.  This can be inconvenient depending on your schedule. However, this is being picky and the savings you get from a large order is well worth it.
Honestly there really are not a lot of other drawbacks I can think of for Bluebird Botanicals.  I would say the biggest for me is just that I didn't find out about them sooner!
Where Can You Buy Bluebird Botanicals Hemp Oil Products?
Ready to order and experience some of the highest-quality concentrated hemp oil extracts on the market?
With a 365-day money back guarantee, you have nothing to lose and everything to gain.  Both this company's products and practices make it stand out from the sea of hemp oil manufacturers crowding the market today.  Based on those products and practices, Bluebird Botanicals has a bright future ahead—and so do you once you experience the benefits of their highly concentrated extracts.
Click here to order direct from BlueBird Botanicals Now!