Endoca CBD – Unique Delivery Systems For Higher Absorption Rates
Want to use CBD, but looking for a wider product selection than is featured from most brands? You may want to check out Endoca.
Endoca is a unique CBD producer which sells the standard oils, tinctures, capsules and edibles, but also offers some cool alternative delivery systems in the form of suppositories, chewing gum, and skin creams.
Endoca was founded by a biotechnology and genetics researcher who was looking for alternative treatments for patients suffering from AIDS. His research led him to hemp oil, and he began to grow his own and charge for it to help support his studies and his free clinic in Denmark. According to the company's about page, Endoca was "the first in the world to sell CBD online."
With more than a hundred employees and more than 2,000 acres of organic hemp farmland, Endoca has become one of the most well-established CBD businesses worldwide.
Why Choose Endoca?

A diverse product selection. Few other websites include the wide range of delivery systems that Endoca provides. You can choose a method of taking hemp which fits your needs.
All products are GMP-certified and third-party tested to ensure their quality and purity. Only 100% organic, non-GMO hemp is used. You can view the quality reports for each batch right on the website. These reports verify that there are no heavy metals, chemical residues, flammable residues or toxins present in the CBD extracts.
A company with a conscience. You already know that Endoca emerged from its founder's efforts to treat those in need. Endoca also operates a non-profit organization called the Endoca Foundation. Your purchase helps support the foundation and its social projects.
Fast shipping. In most locations, you should get your order in the mail within 3-5 business days. Keep in mind that customs in some countries may cause delays.
Great deals on bulk purchases. If you know you will be using a lot of CBD, you can save money on Endoca purchases by buying in bulk. You can save up to 10% off on many items in the online store.
Quality guarantee. If for whatever reason you are not fully satisfied with any product you have purchased from Endoca, you have the option of returning it inside of 14 days for a refund.
Endoca's CBD Product Line-Up
Endoca has an extensive product line, so I won't be going in-depth into each specific product.
Here are all the categories of CBD products available:
CBD Oil
CBD Capsules & Pills
Skin Care
CBD Extract
CBD Edibles
CBD Chewing Gum
CBD Suppositories
Cannabis Crystals
CBD Tinctures
Endoca has created an interesting and informative chart on CBD absorption rates: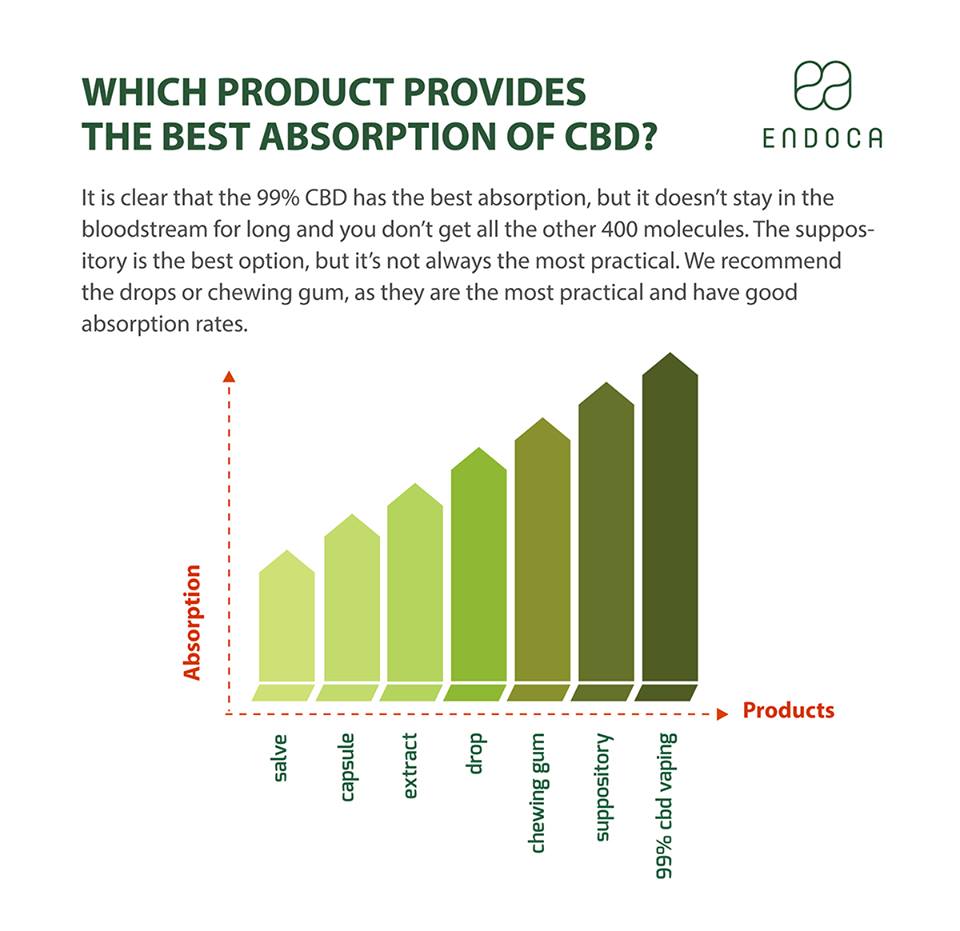 You can see that the highest rate of absorption is for the 99% CBD vaping. As the chart points out, however, there is a drawback: "It doesn't stay in the bloodstream for long and you don't get all the other 400 molecules."
For this reason, the suppository is recommended as the best delivery system in terms of absorption and availability of all of the beneficial molecules.  This may not be your thing and that is completely fine.  The company points out that it may not always be viable in terms of practicality, so the next best option is the chewing gum, followed by the drops. Extracts, capsules and salves come in last.
You probably are pretty familiar already with extracts and capsules, since these are the most prevalent forms that CBD comes in. So below, I will tell you a bit more about Endoca CBD chewing gum, suppositories and skin products.
Endoca CBD Chewing Gum
Now let's talk about Endoca's chewing gum. This is another unique product which, like the suppositories, you are not going to find for sale on most CBD websites.  We loved this and it is a staple for us.
10 pieces of CBD chewing gum per box
150 mg of CBD per piece
Ingredients: CBD extract, chicle, Xylitol, peppermint essential oil, mint essential oil, sunflower lecithin
Pricing:
$15 per single box
5% off 3 boxes
10% off 6 boxes
Here are some reasons to choose CBD chewing gum from Endoca:
As mentioned previously, chewing gum is right behind suppositories in terms of absorption.
You do not have to swallow a pill or capsule.
The chewing gum is a delicious, enjoyable way to get the benefits of CBD. The ingredients are 100% natural.
The chewing gum is fully biodegradable. According to Endoca, "Once disposed of, its all-natural components will break down and dissolve, leaving behind nothing but dust." This is not true of most commercial chewing gums, which hare notorious for not breaking down.
This is a discreet way to take CBD in public. The scent is light and minty, and most people will probably not detect the presence of hemp. This may be ideal if you need to take CBD in a workplace or other environment which is not hemp-friendly.
This is a healthy alternative to the chewing gum which you may be using now. There is no sugar in it, so your teeth and gums are protected. There are also no artificial additives.
This is a great innovative product which you can take with you and enjoy anywhere. It also seems like it would be a good option for children who might be adverse to taking CBD pills or capsules, but might be quite enthusiastic about chewing gum.
Endoca CBD Suppositories
A package of Endoca CBD suppositories provides you with:
10 suppositories in total
50 mg of CBD per suppository
Ingredients: Cannabis Sativa extract, coconut oil
As of the time of this writing, pricing is as follows:
$52 for 1 package
5% off for 3 packages
10% off for 6 packages
Not familiar with suppositories?
This is a delivery system which utilizes the anal or vaginal capillaries.
Here is how it works:
You refrigerate the suppositories.
Wash your hands.
Tear open the plastic shell of the suppository.
Dampen the suppository with a little water.
Insert into the anus or vagina.
Why choose a suppository as your CBD delivery method?
Here are a few reasons:
First of all, absorption is excellent, as already discussed. The capillaries in the anus and vagina are an excellent intake system for your body.
This delivery system is fast. It takes around 10 minutes for most people to start experiencing benefits.
Avoid unwanted issues involving vaping or swallowing. Say for example that you have a hard time swallowing capsules, or hate the taste of CBD. This gets you around those problems.
I do not know if this is applicable with CBD, but I do know that anal or vaginal delivery is recommended for some other medicinal products in order to avoid build-up in fat tissue. Perhaps that is irrelevant here, but if for whatever reason it is a concern, it would be avoided using this method.
Endoca CBD Skin Care Products
Another interesting delivery system which Endoca offers is topical. Topical CBD products are actually pretty common, but they tend to be overlooked. Most take the form of salves or balms.
Endoca goes a bit further and offers several luxurious CBD topical products:
Hemp Salve (750 mg CBD): $64
Hemp Whipped Body Butter (1500 mg CBD): $82
CBD Lips + Skin (20 mg CBD): $8
Again, salves are pretty standard, but this is the first time I've seen a company which makes body butter or CBD lip balm!
Why choose a topical CBD product when absorption is not the best through skin?
If you are experiencing skin inflammation, you can treat it directly using one of these skincare products.
This can be a good localized delivery method for sore muscles.
These products are a healthy, natural alternative to the skincare products which you may be using now. You may find them to be more effective, and you won't have to worry about all the unnatural chemicals and additives which many harsh commercial skincare products contain.
As someone who deals with chronic muscle pain, I have found that CBD salve provides the best relief. It doesn't help with referred pain, but it does do a great job reducing the localized aches I feel. It is super fast-acting too. I often feel an improvement in 5 minutes or less.

Not sure which Endoca CBD product is right for you?
Well they have you covered.  To go along with the innovative product line-up, they have a online tool to help point you to the right product for your specific needs.  Just answer a few quick questions and they will make suggestions.
How Can You Order Endoca Now?
Ready to try Endoca's suppositories, skincare products, chewing gums, oils, or other products? Click the link below to be taken to Endoca's website.
Place your order online, and in just a few days, you could be enjoying the amazing benefits of organic, high-absorption CBD!