The Best Pure CBD Oil? CBDPure.com Delivers
By now, we suspect that you are well aware of the power in cannabidiol. Simply put, CBD oil gives you all the therapeutic properties of cannabis, without the high or psychedelic effects. Derived from the seed and stalk of the cannabis plant, CBD oil also contains other nutrients, like terpenes, omega-3 fatty acids, amino acids and vitamins.
The trouble with CBD oil is that it's not always easy to find a good supplement. That's why we were skeptical of CBD Pure at first. But after learning more about the quality of the supplement and reading success stories, we changed our tune.
Why Should You Use Cannabidiol Oil Supplements?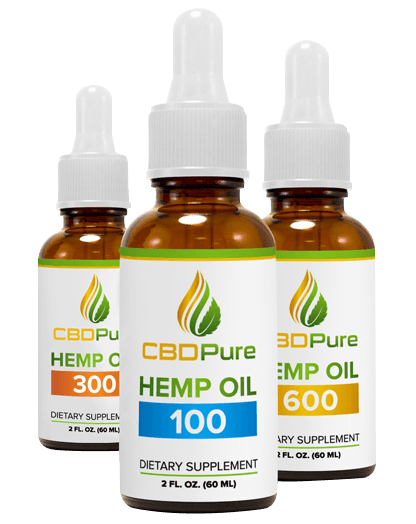 Why should you even bother using cannabidiol oil in the first place? What are the benefits of this natural compound?
Research shows that CBD interacts with the body's endocannabinoid system, which plays a role in a variety of biological processes, from relaxation to inflammation, appetite and sleeping. This system, which was discovered in the 1980s, regulates the body's state of homeostasis, or state of balance.
CBD has been shown to:
Alleviate pain and inflammation
Reduce anxiety
Improve mood
Have antipsychotic effects
Promotes heart health
The great thing about CBD is that it offers all of these benefits without the mind-altering effects of THC. If you're feeling anxious, CBD oil can relax you and even improve your mood without making you feel high.
What is Full Spectrum Hemp Oil?
If you're looking to maximize the benefits of CBD, full spectrum hemp oil may be just what you need. Full-spectrum means that the hemp oil is pure and contains all of the cannabinoids present in the hemp plant.
Full-spectrum hemp oil has all of the cannabinoids found in hemp plants, including:
Cannabidiol
Cannabidiol is the most abundant of cannabinoids in hemp oil, accounting for 90% of cannabinoids. It is believed that cannabidiol counteracts the psychoactive effects of THC, which may be why CBD doesn't induce the high most people associate with cannabis.
Cannabigerol
Cannabigerol is a precursor to other cannabinoids, and is often referred to as the stem cell cannabinoid.
Tetrahydrocannabinol (or THC; trace amounts)
THC, or tetrahydrocannabinol, is the most abundant cannabinoid in recreational and medical strains of marijuana. But in the hemp plant, THC is only found in trace amounts. Because it's found in such small amounts, hemp is non-psychoactive and safe for most users.
Cannabinol
When THC degrades, it transforms into cannabinol. Again, CBN is only found in trace amounts and will not produce a psychoactive effect.
Other cannabinoids are also found in CBD oil in trace amounts.
The benefit of full-spectrum CBD oil is that it provides you with all of the cannabinoids naturally found in the hemp plant, which means they work together harmoniously to create CBD's therapeutic effects.
What Makes CBD Pure So Unique?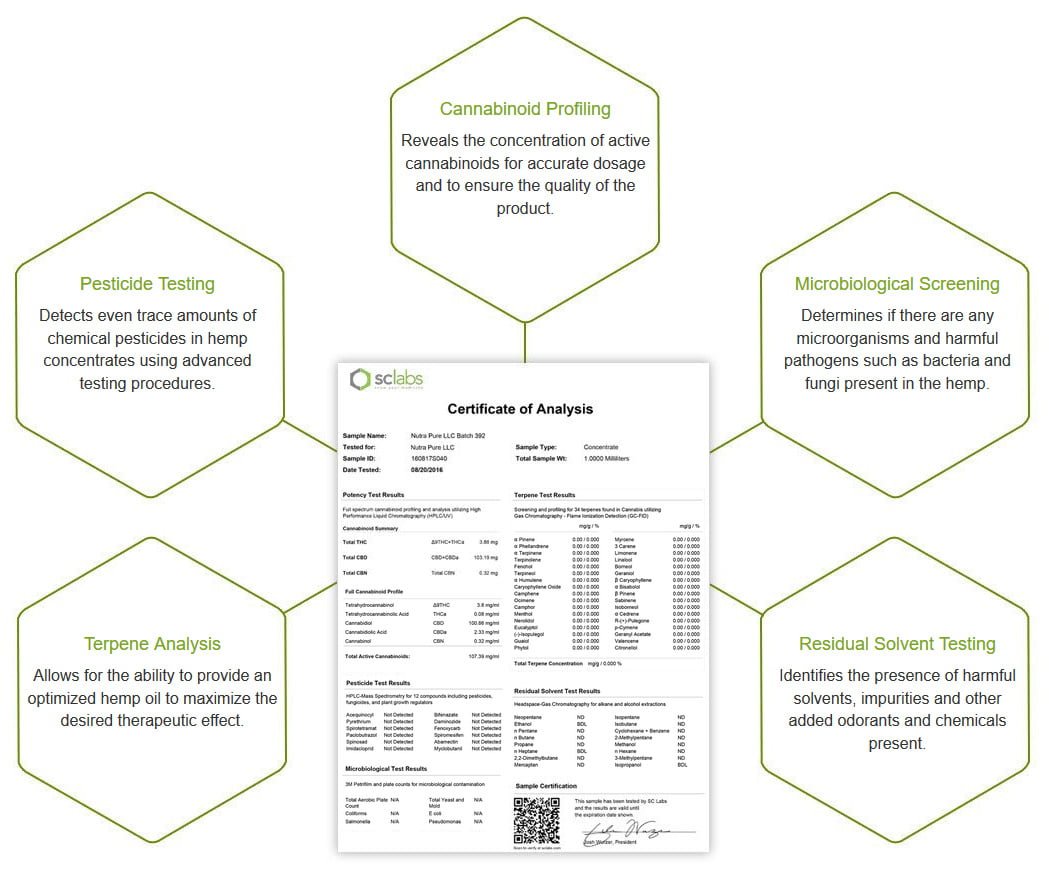 There are plenty of companies offering CBD oil for sale.
Why choose CBDPure. com?
CBD Pure is safe and effective, and third-party tested to ensure that you get the highest quality CBD oil available.
Quality and safety are the two most important things when it comes to hemp oil. Unless you know where the hemp is coming from, you may be putting harmful toxins and pesticides in your body without knowing it.
CBD Pure's third party testing includes:
Microbiological Screening
This important screening tests to see if there are any harmful pathogens or microorganisms in the oil. In other words, it screens for purity.
Pesticide Testing
Advanced testing procedures are used to look for even trace amounts of chemical pesticides. Pesticides can be harmful to the body, which would completely negate the effects of CBD.
Cannabinoid Profiling
Profiling ensures the quality of the oil and lists the concentration of active cannabinoids. The concentration of active cannabinoids helps ensure accurate dosage.
Residual Solvent Testing
Looks for the presence of impurities, solvents, chemicals and other odorants for added safety and quality.
Terpene Analysis
A complete terpene analysis allows the makers of CBD Pure to provide optimized oil that maximizes its therapeutic effects.
Where Does CBD Pure Get Their CBD Oil?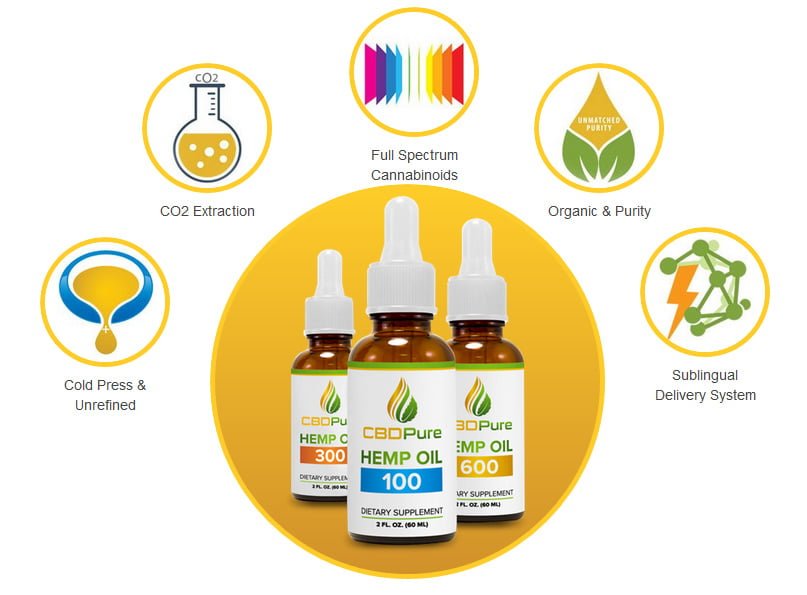 CBD Pure's CBD oil is created using industrial hemp grown in Denmark. The hemp is grown using certified organic standards, and contains absolutely no artificial ingredients.
And just so you know (because I know you're wondering): oil from industrial hemp is completely legal in the U.S.
How is the CBD Oil Extracted?
CBD Pure uses a CO2 extraction process to obtain their CBD oil. This extraction process is chemical-free, and uses pressurized carbon dioxide to pull the CBD out.
No harmful chemical solvents are used to extract the oil, which is common with most other manufacturers.
What's the Difference Between Marijuana and Industrial Hemp?
The CBD oil extracted from industrial hemp is very different from the oil extracted from the marijuana plant.
The biggest issue with CBD oil from marijuana is that it contains THC. The oil from the industrial hemp plant is high in CBD and only contains trace amounts of THC.
Even if you choose a high-CBD strain of marijuana, you're still likely to get some of the effects of THC. Hemp's CBD oil contains such little amounts of THC that it's non-psychotropic and completely safe to use.
Can You Vape Pure CBD Oil?
No. Pure CBD's oil is full-spectrum hemp oil, which means it contains all of the natural compounds found in the hemp plant. Because the oil is not designed to be an e-liquid, it can leave behind residue on vape coils and reduce its effectiveness.
Does Pure CBD Oil Really Work?



Whether or not Pure CBD's oil really works depends on what you plan to use it for. Just one look at the success stories on the company's website, and you can see just how transformational this oil can be.
From pain to improved mental health and lower anxiety, people have found tremendous success with Pure CBD.
Is Pure CBD the best CBD oil?
If it's not the absolute best, it's one of the best. Third-party testing ensures that the company offers pure, high quality oil that maximizes CBD's therapeutic properties. Plus, it comes in an easy-to-use bottle that makes it easy to dispense just the right amount of oil.
And if you don't think CBD Pure is working for you, the company offers an iron-clad, 90-day money-back guarantee. If you don't get the effects you want, return the product and get your money back – no questions asked.
How Do You Take CBD Pure's CBD Oil?
CBD Pure's CBD oil comes in three concentrations: 100 mg, 300 mg and 600 mg.
Each serving contains a specific amount of cannabidiol, depending on the concentration you choose.
100 mg: 3.3 mg per daily serving
300 mg: 10 mg per daily serving
600 mg: 20 mg per daily serving
Each concentration is available in a one-month, three-month or six-month supply, so you can buy just the right amount of CBD oil for your needs.
The six-month supply offers the best value, and gives you more than enough product to really give CBD oil a good try. You should experience benefits right away, but over time, those benefits will compound until you realize the maximum potential of this oil.
April 2018 Update: You can now also order CBD Softgels.
Where Can I Get Pure CBD Oil?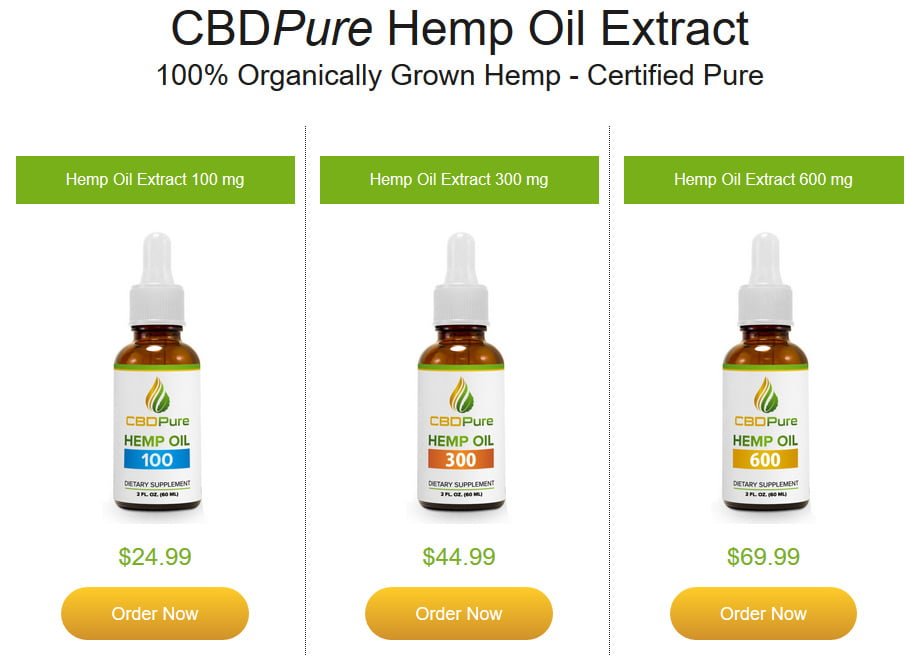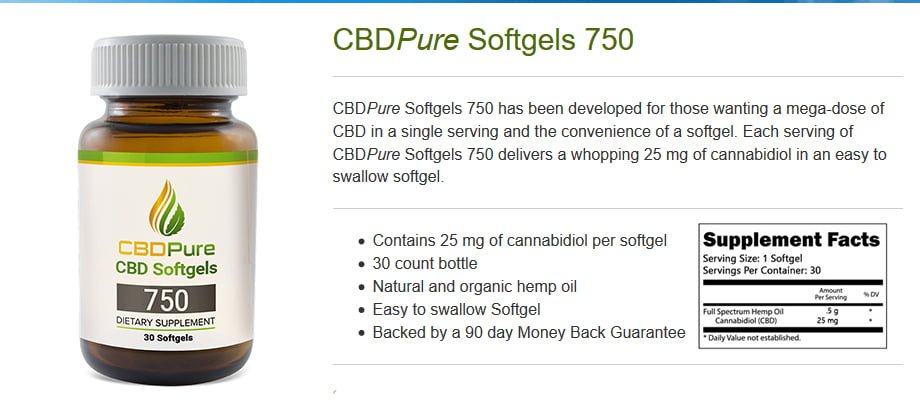 CBD oil can be purchased just about anywhere online, but that doesn't mean you should buy it from just anywhere. If you buy the first bottle you see, you may be disappointed with the results.
CBD Pure is available only through the company's official website. If you see it anywhere else, it may be a fraudulent product and unsafe for use. It's always best to purchase directly from the source. Better to be safe than sorry when it comes to CBD oil.
CBD Pure ships everywhere in the U.S., with the exception of a handful of states: Kansas, Arkansas, Louisiana and Indiana. The company does not ship internationally.
CBD Pure's full-spectrum hemp oil is natural, non-habit forming and produces the beneficial effects that users are looking for.