CBD Honey Sticks – The Easiest Way to Get Started with Cannabidiol
When most people think of cannabidiol (CBD), they think of tinctures and oils. But these aren't always easy to swallow (literally). If you're just getting started with CBD, you'll be happy to hear that you have so many more options, from edibles to lotions and salves.
But a personal favorite is CBD honey sticks, particularly Diamond CBD honey sticks.
They're portable. They're familiar. They add a bit of sweetness while providing you with a dose of CBD. And they taste great.
That's really the most important part. If your first "taste" of CBD is an unpleasant one, it may turn you off for good.   Trust us, we have heard that feedback many times over in 2018 when customers jump right in with tinctures.
What are CBD Honey Sticks & Why Should you Use Them?
Natural honey is loaded with antioxidants and naturally sweet. It provides our bodies with beneficial nutrients and enzymes.
Referred to as the "Nectar of the Gods," honey acts as an antibiotic and a natural cough syrup. It soothes and coats the throat, too.
In the Ayurvedic tradition, honey is considered a vehicle to deliver herbal medicine. Why? Because it's so easily digested by the body. Honey enters directly into the bloodstream, so its effects are virtually instant.
It's easy to see why CBD would be infused with honey. You enjoy the health-promoting benefits of the honey itself, and because it enters directly into the bloodstream, you get the effects of the CBD almost instantly.
CBD honey sticks take this same concept, but put it into a convenient, travel-friendly vessel. They're easy to pack. You can take them to work, the gym, class – wherever. Add them to your favorite hot drink, eat it as a snack, or drizzle it on your morning oatmeal.
Diamond CBD honey sticks have just two ingredients: honey and industrial hemp cannabidiol (CBD).
How to Use CBD Honey Sticks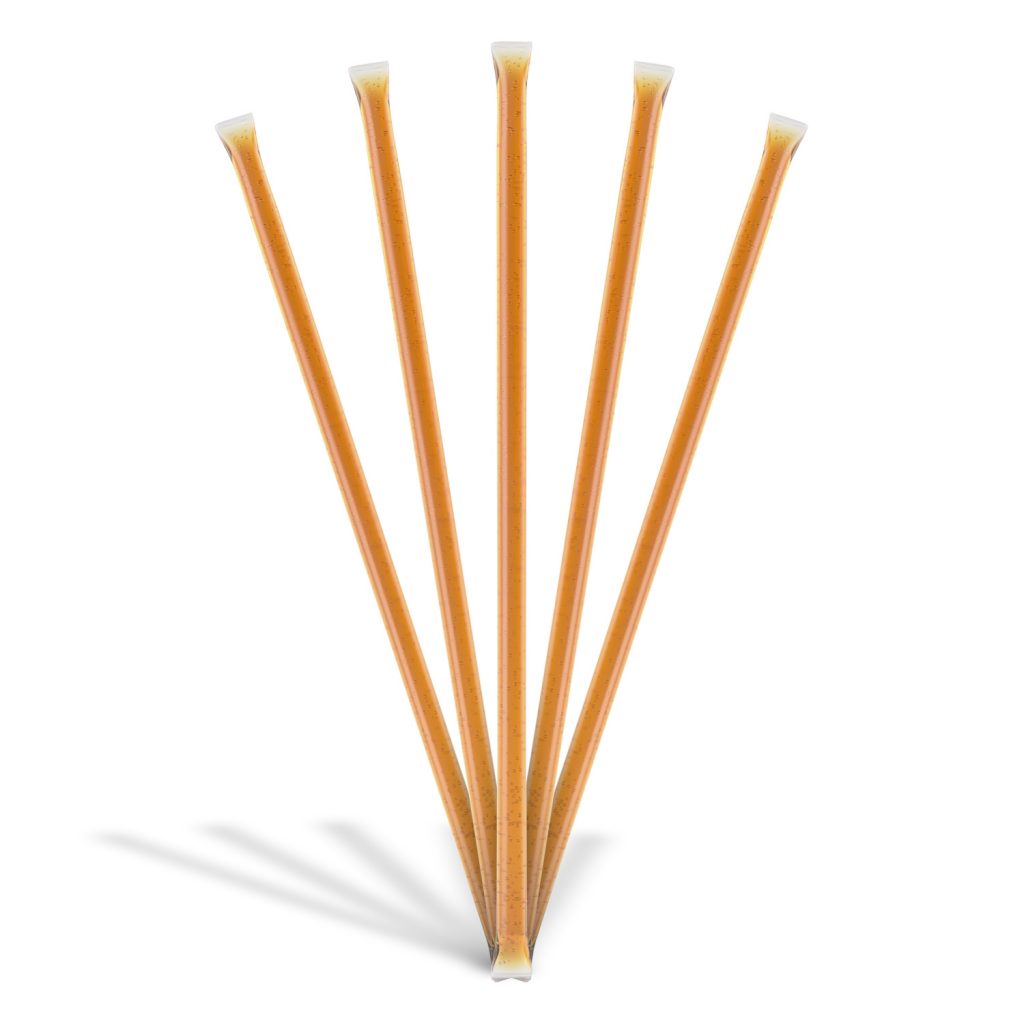 Diamond's CBD honey sticks come packed in a jar, which makes them easy to store in your pantry.
Each stick is filled with CBD-infused honey. Just cut one side of the stick, and squeeze into your favorite drink. I use CBD honey and honey sticks in my yerba mate tea. It adds an interesting, mildly sweet flavor.
If you like the taste of honey, you can just squeeze the stick right into your mouth.
Honey sticks are convenient, easy to use and have just the right amount of CBD. There's no need to worry about measuring or dealing with messy – and sticky – jars of honey. Diamond CBD's sticks have 10mg of pure CBD in each stick.
If tea isn't your thing, there are other ways to use CBD honey.
DIY Sports Drink
Diamond CBD actually recommends using their honey sticks to a make a homemade sports drink with:
Water
Salt
Lemon juice
Lime juice
CBD honey stick
The combination of the salt and citrus helps replenish electrolytes. The CBD-infused honey will give you a refreshing energy boost along with all of the benefits of cannabidiol.
Face Mask
If you prefer not to eat honey-infused CBD, you can whip up a soothing face mask right in your kitchen. Mix with a little coconut oil for a moisturizing mask, or just add a little water and apply the honey directly to the skin.
Allow the mask to sit for 10 minutes, and wash with warm water.
Honey acts as a humectant, which means it bonds with water molecules to increase the water content in the skin. Humectants draw water from the environment and improve water absorption from the outer layer of your skin.
Snack or Condiment
CBD honey sticks can be eaten directly from the "straw" itself, or you can drizzle it on:
Yogurt
Oatmeal
Salads
Your favorite coffee drinks
Desserts
Fruit
Pancakes or waffles
Grilled vegetables
Cheese
Honey can add a subtle sweetness to any food or drink, and its mild flavor complements most foods.
Diamond CBD Honey Stick Flavors

What's nice about Diamond's CBD honey is that it comes in different flavors.
Maybe you don't like the natural taste of honey. Flavored options may make the honey more palatable for you.
And they're great for just taking shots (pouring the honey directly into your mouth).
Diamond CBD has a wide range of flavors to choose from, including:
Strawberry
Orange
Blueberry
Apple
Cherry
Sour Blue
Pink Lemonade
Watermelon
Banana
Peach
Sour Grape
Flavored honey is great for desserts, sweet breakfasts, or just eaten directly from the stick.
With Diamond CBD, you have the option of buying a pack of 5 sticks or a pack of 100.
Honey Sticks are a Great Way to Get Started with CBD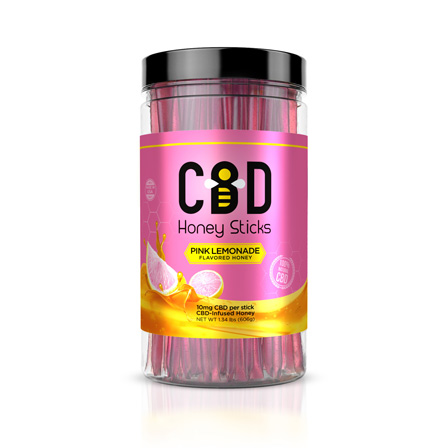 If you're interested in trying CBD, honey sticks are a great way to get started – especially if you already love honey. It's a familiar product, and it's easy to incorporate into your routine. If you enjoy a cup of herbal tea at night, adding a CBD honey stick to your cup will give you all of the benefits of cannabidiol without you having to adjust your routine.
If you're an anxious person and want to use CBD to calm your nerves, honey sticks are portable and easy to take whenever, wherever. It's discreet, too, so you can use it while out in public without fear. No one will think twice about you taking a shot of honey.
The flavored honey sticks are colorful, so they look just like candy.
Portability and ease of use are the two main benefits to using CBD honey sticks. You don't have to worry about measuring just the right amount of honey to get your desired dosage. Each "stick" contains a set amount of CBD, so you get just the right dose every time.
If you're worried about the taste of tinctures or having to remember to measure and take your dose each day, CBD honey is a quick and easy alternative. I like it because I don't have to think twice about it. I add my stick of honey to my yerba mate tea, drink and enjoy.
You can stick to honey if you like. But after you've given CBD a try and it's become part of your regular routine, you may find that it's now easier to dive into other products and edibles.