It has only been a few years since broad-sweeping legislative changes have opened up possibilities in the CBD market. At first, only a few CBD products were available, but now, there is a lot more diversity in what you can buy.
If you enjoy the vaping experience, you may have wondered in the past whether it would ever be possible to vape flavored CBD so you can partake of its medicinal benefits. Now an exciting new product has entered the market to fill that gap—KOI CBD eJuice vape oils.  These are not your run of the mill vape oils either.  They take quality to a different level and offer truly premium products.
If you are looking for KOI CBD reviews, you have come to the right place. In this guide, you can learn all about what makes KOI CBD Oil different—their ingredients, flavors and concentrations, as well as how to use them.
Our focus for our review was there premium eliquids.  The KOI CBD eJuice vape oils are designed for use with regular eCigarettes or other vaporizers of your choice. They contain concentrated CBD without any THC, and are flavored much like other eLiquids you may have used.
What is cool about these eJuices is that they also double as tinctures. That means that if you prefer, you can use them sublingually. If you want to use the oil that way, anywhere from half a dropper to a full dropper should provide you with the dosage you need. You will need to experiment to find out what works for you.  Their wide range of flavors make their traditional cbd oils appealing for a wide audience that might find natural blends too abrasive in take orally.
Why Choose KOI CBD Oil?
KOI sets itself apart from other brands in the CBD oil market in a number of ways:
Healthy ingredients. The oils contain natural 100% pure, natural CBD isolate, food grade vegetable glycerine, propylene glycol, and a combination of artificial and natural flavors. These oils are not sweetened in any way.
All products are subjected to third-party testing and are lab certified for purity and potency. If you want to view the results for any batch, you can do so right on the website.
These eJuices are free of THC, hexane, GMO, and pesticides. Also note that there is no nicotine contained in any KOI CBD oils. They used to make a version which included nicotine, which is why you will find Prop 65 Warnings on some of their bottles. These warnings are out of date however, and do not apply to any of the current stock. You can feel free to ignore them.
Military veteran or active duty member? You can get 25% off on your purchase of CBD vape oil eJuice or other products from KOI.
KOI sells everything you need. Even if you are totally new to vaping, you can purchase all the necessary supplies right on the brand's website. For example, you can buy the Koi Stik by Boulder for just $16.99. This portable, affordable little vaporizer comes with a USB charging port, an empty pod, and an empty 30 mL bottle which you can use to fill the pod. It's the perfect option for beginners.
Fast shipping. KOI does its best to offer same-day shipping whenever possible, so you can get your order right away. Need even faster shipping? Call the company up while you are filling out your order, and they will offer you additional options.
KOI CBD Vape Oil Flavors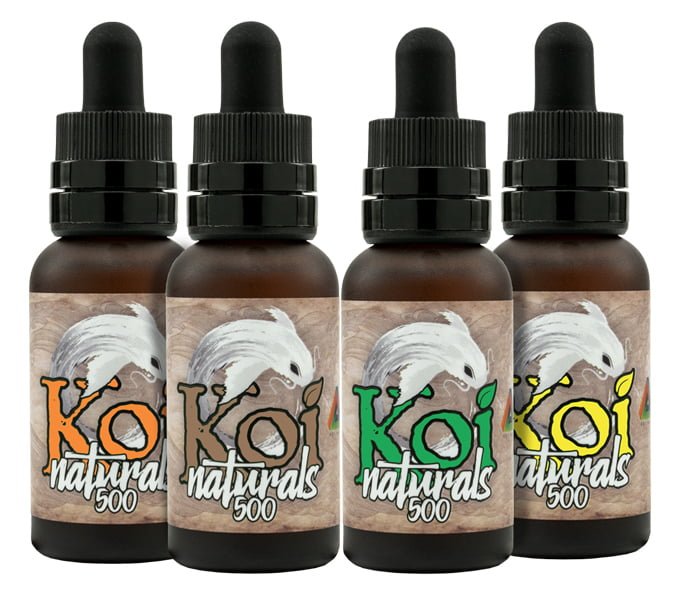 Right now, KOI CBD vape oils are available in these different flavors:
Tropical Popsicle: This oil includes a combination of flavors such as raspberries, lime, and cherries for a refreshing summery delight.
Raspberry Iced Tea: As it says on the tin, this flavor is a meant to mimic raspberry iced tea. This is another one which is ideal for summer.
Fuji Apple Nectarine Strawberry: The flavors in this oil include Fuji apples, Aliso strawberries, and Eastern Fantastia nectarines.
Blue Koi: The flavors of dragon fruit and blue raspberry mingle in the Blue Koi eJuice.
Red Koi: This flavor is also marketed by the company as "Classic Strawberry Milkshake." Smooth and creamy, it offers a delicious experience reminiscent of one of your favorite frozen treats.
Gold Koi: Those looking for creamy flavors can also consider Gold Koi, which combines caramel with four types of vanilla.
Jade Koi: Watermelon and sour green apples combine for another summery treat.
Pink Koi: If you love pink lemonade, you'll enjoy Pink Koi, blended with the same flavors.
White Koi: Prefer to skip out on flavors altogether? White Koi has no flavors added, making it a pure, simple alternative which blends great with any other eLiquid you might be using.
How are these flavors in real life?
Well, everyone will have their own subjective preferences. Since both natural and artificial flavorings are used, you may find that some flavors taste more "authentic" to you than others. Still, even the artificially flavored oils can be enjoyable, and you may even find you prefer them.
As mentioned earlier, there are no sugars or other sweeteners added, but some of the flavors in the blends are naturally on the sweet side. The lack of sweetening additives makes for a healthier oil, and one where the flavors are more balanced.
Not sure what flavors you are interested in? Consider purchasing the Koi Variety Pack, which allows you to pick five different flavors to try.
Concentrations Available
Each bottle of KOI CBD vape oil comes with 30 mL of eJuice. The concentration depends on your selection while you are shopping. You can pick from 100 mg, 250 mg, 500 mg, and 1,000 mg. You can then choose your dosage from there.
So say for example that you purchase the 100 mg version, which is the lowest concentration. This equates to around 3.5 mg for every 1 mL of oil—that is a full dropper. Per drop, that is around 0.16 mg of CBD.
If you were to buy the 1,000 mg version instead (the highest strength), you would get around 34 mg of CBD in a full dropper, or 1.7 mg per drop.
All of this math is done for you on the website, so you can figure out the strength you want to purchase easily. Just click on "Concentrations" on the product page when you are picking the oils vape oil you want to buy.
How Do You Use KOI CBD Vape Oil?
Vaping these oils is just like vaping any eLiquid. You just pour it into the tank of your vaporizer (any type or brand of vaporizer is just fine), and you are good to go. You can either enjoy it undiluted, or you can mix it with any other eLiquid you use. A ratio of 50% is suggested by the company as a good default, but you can try different ratios to see what you like.
KOI Naturals' Other Products
Along with vape juices, KOI sells a variety of other CBD products. These include regular CBD oil (also in a variety of flavors), devices and cartridges, CBD gummies, CBD lotion, and CBD for pets. So you can meet all of your CBD needs in one place by shopping through KOI.
Where to Buy KOI CBD?
Ready to purchase the best vape juice online?
Click below to be taken directly to the KOI Naturals online store and check for any current KOI CBD coupon promotions. There you can shop all the flavors and concentrations of KOI's organic vape juice and check out their other quality products. KOI usually ships within the same day you order, so you could soon be enjoying the delicious flavors and natural healing power of KOI CBD vape oils!